Adult 4D is the future of adult entertainment. Advertising itself as the very first site in adult entertainment that offers you a full high definition 3D and 4D experience, this site will bring you porn like you have never seen it before.

And they are not fobbing you off with licenced content here - they are bringing you brand new and exclusive content never seen before that you can see via some of the most advanced technology in adult entertainment.
Content
This site currently features around 30 videos and 11 photo galleries, all of which come in ZIP download files and require 3D viewing technology and equipment to be enjoyed fully. The videos are available in WMV and MP4 formats at 1920x1080. Obviously, to get the very best from the site you will need to make sure that you have a 3D ready television, monitor or laptop / notebook. The site has an update schedule of once per week.

When it comes to the uptake of new technology, the porn industry is often at the forefront. It's been a little slower when it comes to 3D and 4D but hopefully what Adult 4D can offer will persuade more and more labels and companies to take up the challenge. Whipping out the old 3D glasses and plugging my laptop into our new TV set might have been a bit of pain in the backside when reviewing it - but I'll tell you what, it was well worth it.

The trouble such a site will have is that many will inevitably label it as a novelty or a gimmick but I didn't get that feeling here. The content is actually really good and I was genuinely surprised that it is all exclusive. The perspectives that you get have clearly been taken into account by the performers, and it really does give you an experience that I have never encountered from any other porn site around. I think they are on to a good thing here.
User Interface
The navigation here was actually slightly disappointing and old-fashioned - bizarrely, for a site using this type of technology on its content. The frames layout really was quite a pain at times, but you just about get used to it.

For me, there wasn't enough information about the actual content itself and I think they need to be careful to make sure they focus on that as much as they do on their technology. Just needs a bit of tweaking here and there.
Conclusion
Adult 4D is a site that really does make you look at porn in a completely different way - in more ways than one. It is quite a remarkable experience, but the site triumphs not just in terms of the technology it has on board.

It actually remembers to give you some high quality content as well, making sure as a result that their investment is not wasted. I think that if you have the means that you should almost certainly check this out.

$34.95 (1 month, recurring at $24.95 in the second month, and then reducing by $1 every month down to $19.95)
User Score: 8.8 / 10
amrit, Score:10.00, Date:Aug 20, 2011, can i fuck u.

paullaw, Score:7.50, Date:Oct 28, 2010, good


Enter comments and rate this site:
Please enter meaningful comments with pros and cons about the site else your comment will be deleted. We reserve the right to remove any comment we deem inappropriate or not adding anything useful to the review.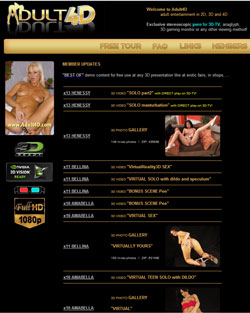 Adult 4D Members Area Preview

Content Quality

9.8 / 10

Content Quantity

6.0 / 10

Exclusive Content

5.0 / 05

Download Speed

3.7 / 05

Navigation

8.1 / 10

Price / Value

8.3 / 10
$34.95 / 30 days

Initial Review : Jul 8, 2010