TAC Amateurs is a massive collection of individual sites that make up what is one of the biggest collections of amateur content and sites that you will find anywhere - over 250 sites and counting, in fact!
There are huge amounts of videos and photo galleries for you to enjoy on the site, with ladies of many nationalities, backgrounds and ages all joining in on the fun and helping you to enjoy this massive experience!
Content
This site currently has over 10,000 videos on board, as well as over 1 million photos as well in addition. As you may expect, the videos formats and photo sizes do vary across the network of sites, but you will generally find that all videos can be downloaded and streamed, and that updates are made frequently across the board.
Wow! I haven't seen a network this size for quite some time! I guess it's fair to say that TAC Amateurs isn't really a network of single sites as we would normally understand it, more a collection of sets for a lot of different models which they are terming as 'sites'. Whichever they choose to term it, it is certainly a very impressively sized collection of content and models, that's for sure, and although not all the models are contributing something new, there is always something new to check out. It's difficult to know where to start when describing what is on show here.
The range of the nationalities of the performers is extremely impressive, as is the range of content that they perform in. It really is a bit of heaven for those of you who are looking for a purely amateur network, obviously, but there are one or two issues that need to be made clear. Quite a lot of the sites are no longer updated, for instance, and quite a lot of the sites are also pretty small.
User Interface
The navigation here is really quite difficult to negotiate, but whilst it might prove problematic at the beginning, it proves to be the case that you will get used to it as you go along. The general update information is okay but could perhaps have been rather more complete and informative.
The the descriptions of the videos and galleries were quite good as well. As mentioned, it does take some getting used to but once you do you should find it easy to get around.
Conclusion
TAC Amateurs is certainly quite a daunting proposition when you first check it out - but for amateur porn fans looking for something completely new to check out, you really cannot afford to be without this.
The navigation did not prove to be as problematic as I was expecting it to be, really, and I think that your value for money here is going to be extremely high indeed. Very highly recommended for amateur fans.
User Score: 7.8 / 10
Tallboy, Score:9.00, Date:Jan 18, 2013, I am lovng this site

Adrian, Score:10.00, Date:Jan 7, 2012, This site is truly MASSIVE. Highly recommended

bigal, Score:2.50, Date:Jun 22, 2011, not enough video content,hardwork to navigate,would not recommend

tyunh, Score:9.50, Date:Mar 8, 2011, Very nice indeed


Enter comments and rate this site:
Please enter meaningful comments with pros and cons about the site else your comment will be deleted. We reserve the right to remove any comment we deem inappropriate or not adding anything useful to the review.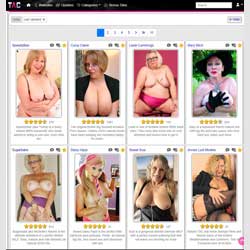 Tac Amateurs Members Area Preview

Content Quality

8.6 / 10

Content Quantity

9.8 / 10

Exclusive Content

5.0 / 05

Download Speed

4.2 / 05

Navigation

8.5 / 10

Price / Value

9.5 / 10
$29.95 / 30 days

Initial Review : Dec 22, 2010