Featuring entirely exclusive content produced by the critically acclaimed Denys Defrancesco, this is a prolifically updated site that includes solo posing, lesbian and hardcore photo sets and videos by an amazing collection of well-known stars and upcoming starlets.
With daily updates (of which there is a weekly hardcore set added) and 1587 different models, this is also one of the largest porn sites on the internet. 1 By Day features over 528,128 individual and exclusive photos, and almost 5000 videos. That's quite a lot of porn!
Content
The browsing options are even better than ever now. The vast collection of 4985 videos can now be streamed or downloaded in  MP4 format. The high definition versions, display at 1920 x 1080 (5000Kbps). Lower resolutions are also available. There are some newer movies that also display in ultra 4K at 3840x2160 @ 15600kbps. Photos can be viewed at a highest resolution of 1333x2000. Photosets can be downloaded as Zip files. Updates arrive 2 to 3 times every week.

It's always slightly daunting re-reviewing a site as brilliant as 1 By Day was in the first place. When I first reviewed it I said it was, "…one of the finest adult sites I've ever seen." That's quite some accolade to follow up with! Really, the only areas that I personally felt 1 By Day had any real reason to improve on was with regard to the navigation, but as you will see below, that has improved vastly. So, whilst they really didn't need to improve the actual content at all, I'll be damned if they haven't gone ahead and done it anyway. This now means that 1 By Day could well be the largest collection of exclusively shot content I've ever seen. They have been VERY hard at work.
What of the content though, in case you somehow missed the first review? Well, it's just wonderful. Denys Defrancesco takes some of the world's most beautiful women and makes them look better than even they could have dreamed of in a staggeringly wide selection of different niches that will stun you. From soft, stripping shoots to some of the hardest of hardcore action that I've ever seen, there really is nothing here that 1By-Day doesn't cover that is worth covering. The latest Jasmine Rouge shoot is breathtaking.
User Interface
The navigation has improved markedly, even though it really was quite superb in the first place. Separate categories for the video and photo content, and also slightly more information on the model browsing pages are now in place. All the other browsing features and menus are excellent, the updates are frighteningly regular, and the information about those is great. The layout is pretty good too, and the model biographies are a nice touch.
There are also loads of browsing and search options on the videos and photo galleries too, far more than there were previously, whilst download speeds obviously depend on the quality of video you choose to download.
Conclusion
The only quibble about 1 By Day I had in my last review was that a site producing content as good as this really needed a much better navigation, and you know what? They went ahead and gave it a MUCH better navigation. Not only that, they also came back with double the amount of updates, a fabulous array of new browsing features, and the same eye for European beauty they always had. It's still one of the best adult site I've ever seen – and even better now.
1 By Day can also be access from the DDF Network which is offered at a special discount price too
*** Please note: Be careful of pre checked or pre-selected cross sales on the join page. Make sure you uncheck or de-select those options, unless you want these extras, as you will be charged extra for them.
kashima, Score:9.00, Date:Nov 21, 2013, good

pcnog, Score:8.00, Date:May 12, 2011, the only draw back is the cost

mickey, Score:9.00, Date:May 5, 2011, hoot!!

julia, Score:10.00, Date:Nov 8, 2010, goooooooooooooooooood


Enter comments and rate this site:

Please enter meaningful comments with pros and cons about the site being reviewed. We reserve the right to remove any comment we deem inappropriate or not adding any value to the review. No special characters are allowed in comments. Be careful of using scores of 0 or 10 as almost no site is totally useless or worthless or absolutely perfect.
IP is recorded for security purposes: 52.3.228.47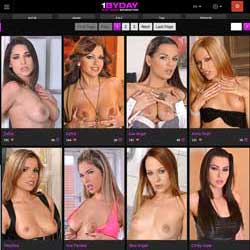 Members Area Previews





Content Quality

9.3 / 10

Content Quantity

9.8 / 10

Exclusive Content

5.0 / 5.0

Download Speed

4.2 / 5.0

Navigation

9.3 / 10

Price / Value

9.3 / 10



SAVE 50 %

$9.99 for 30 days
(Special Discount Price)

Normal price: $19.99 / 30 days

Latest Review Update: Jan 5, 2018