40 Something Mag is slightly different from your average 'MILF' site – this one is based upon the magazine 40Something and brings all of its pictorials and editorials to this site, whilst giving you the opportunity to buy copies of the magazine in the meanwhile.

The site also throws plenty of videos into the mix as well. The site doesn't just cover ladies in their forties though, as women from the age of 35-69 are covered here – meaning that no fan of mature ladies should miss out!
Content
40SomethingMag currently has 743 videos, and also contains 1540 photo galleries, with all photos available in 3 sizes up to a maximum of 2000x3000. All galleries can be downloaded in a ZIP file. Videos are available in Flash, WMV and MP4 formats for downloading and streaming in Flash at at up to 1920x1080. Videos can also be downloaded in WMV and MP4 in HD displaying in 720p at a resolution of 1280x720(2.15Mbps).   Updates are about 3 times per week.
40 Something Mag is a nice idea that wasn't quite what I was expecting when I entered the site. It's a combination of online versions of magazine pictorials and editorials, and content shot exclusively for the website.
This means that people who do buy the magazine but want to subscribe to the website are still going to find more than enough content to justify purchasing both. The site wisely decides not to just focus on women from the age group mentioned in the site's title. It covers the whole spectrum of MILFs, as, obviously, some people prefer them to be slightly younger or slightly older.
It's a good mixture of solo masturbation and hardcore action as well. It was a shame they couldn't provide any real lesbian action worth mentioning though, but a huge archive of photos here goes on to cover a fair few other niches on its merry way. 
Bonus content gives you a good assortment of photo galleries and video feeds from third party sources.
User Interface
This is something of a difficult site to organize, but somehow they have managed it quite well. Instead of sticking with what would have been problematic strict sections for each category, allowing them to overlap and link into each other. There are separate sections for Videos and Photos.

The models sections are organized very inventively too, organized into age groups. The video downloads were not too bad, but I expected them to be quicker. Updates are very regular and the information is marvelous.
Conclusion
40 Something Mag is a top quality MILF site that I would recommend to all fans of this niche. It's brilliantly organised, and provides a superb companion piece to the magazine itself. The site has grown nicely since our last look.

The mixture of content is equally impressive, with lots of solo content mixed with some great hardcore action, and the women themselves are a mixture of adult stars and amateur newcomers. Superb stuff.
jammin, Score:6.50, Date:Oct 21, 2011, I used to read the mag and was dissapointed that more models that I'd seen didn't have many videos available. One in particular has a video that time and again doesn't work. The download time is slow around 7 to midnight for some reason and it's not my internet connection. I found the site itself kinda lacking but still quality pics and models.

Ralph, Score:9.00, Date:Mar 18, 2011, Yes, but 40something now offers 800x450 and 1280x720 streaming formats available at any time. This is to protect against piracy and still allow members continued access to great content. Five weeks is enough time for you downloader to grab anything you want ;)

scotsram, Score:2.00, Date:Mar 18, 2011, The video content is not available for download after 5 weeks of it appearing! Not mentioned when you join! Disappointing to new members searching through the content!! Poor show!

crocop, Score:10.00, Date:Sep 11, 2009, super


Enter comments and rate this site:

Please enter meaningful comments with pros and cons about the site being reviewed. We reserve the right to remove any comment we deem inappropriate or not adding any value to the review. No special characters are allowed in comments. Be careful of using scores of 0 or 10 as almost no site is totally useless or worthless or absolutely perfect.
IP is recorded for security purposes: 18.232.125.29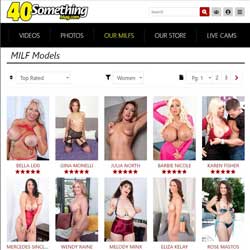 Members Area Previews





Content Quality

9.0 / 10

Content Quantity

9.1 / 10

Exclusive Content

5.0 / 5.0

Download Speed

3.7 / 5.0

Navigation

8.4 / 10

Price / Value

9.0 / 10



SAVE 33 %

$19.95 for 30 days
(Special Discount Price)

Normal price: $29.95 / 30 days

Latest Review Update: Feb 26, 2019