AdultDVDEmpire Unlimited is an enormous adult movie site. It contains one of the largest archive of porn movies and adult DVDs that you will find anywhere online. You are never going to get round to watching all these adult movies !
That is because they have over 65,000 movies and well over 275,000 scenes to offer up to you. They are also adding more and more XXX adult videos all the time. Like I say, you are never going to be able to watch all this porn!
Content
As mentioned above, Adult DVD Empire has well over 275,000 video scenes from over 65 000 DVDs available to view. There are no photo galleries or screenshot sets current available on this site. Most DVDs are cut into 4 or 5 different scenes, for the record. The videos are available to stream with their custom HTML5 player, with bitrates unknown and a best display of 1920x1080. There are also some movies that are in Ultra 4K HD. At least 1 new scene is added 7 days a week. often more than that.
It has seemingly been such a long time since I have seen one of these monstrous DVD and video sites that I had almost forgotten that they existed! I've been wracking my brains trying to think of a bigger DVD and movie site than Adult DVD Empire but I honestly don't think that I can. This is seriously one of the biggest porn sites of any description that there must be anywhere online and I think that the value for money factor here is absolutely immense to say the least.
Of course, the fact that the videos are streaming only may be an issue to some. Personally, I don't mind, I've never been bothered about downloading. But I think this is offset by the sheer size of the collection, which is admittedly amazing. It covers pretty much all genres plus membership includes access to Gay DVD Empire Unlimited and Pornstar Empire. So basically it does cover almost everything you can think of, with contributions from some of the biggest labels and porn studios around!

The videos are also available to watch on your Roku device which for me is a huge plus. They also sell Videos, Sex Toys and other accessories on the site. So its like your one stop shop for adult content.
User Interface
This site is offered up with a pretty impressive navigation that certainly worked quite well in terms of being able to access the huge amount of content that the site has to offer in terms of tags and names of stars. You also get to watch these movies on your Roku device if you choose to do that.
That said, there is not a great deal of information provided with any of the content on this site and update information was more or less non-existent. The model directory was very good indeed, however, with links to all of that models content.
Conclusion
Adult DVD Empire has an enormous collection of porn that is really just completely irresistible. This amount of porn isn't, of course, ALL meant to be watched but the provision of you having so much choice is great to see.
What I enjoyed so much was the fact that they do cover so much ground on this site and that they really do everything that they can to make sure the choice is all as accessible as it possibly can be.
Dan W, Score:2.00, Date:Apr 15, 2019, I've been a member for some time and have enjoyed Adult DVD Empire. Now the bad part I do have Unlimited and purchase and download movies and scenes to watch later. Today I have purchased 8 scenes and nearly $60.00. Of the eight only two videos work the others will not load. I've sent two messages to support and there has not been a response

Scott from Adult Empire, Score:10.00, Date:Dec 30, 2016, Andy - I'm sorry to hear you did not have a good experience with your purchase. We ship DVDs factory sealed in the original case with artwork, on rare occasions certain items do not come with cases from the studios and are shipped in sleeves but that information should be listed on the page. Since it was not listed for the item you purchased this should have been handled differently. If you see this please contact me directly scottb at dvdempire.com and I would be glad to resolve this issue for you.

Andy, Score:2.00, Date:Jun 23, 2016, I was a long-time AdultDVDEmpire customer, with dozens of orders dating to at least 2008. This last time, the site shipped me DVDs in plain sleeves without cases or artwork. This condition was not disclosed in any of the web pages I visited to add the items to my cart and checkout. The company acknowledged that this could occur, but refused to accept a return of the unopened, unviewed items for store credit, even though that would have cost them nothing. They could not provide a logical reason for refusing, except that this was "policy".

Ryan from AdultEmpire.com, Score:10.00, Date:Sep 30, 2015, Hello "Lost customer", I'm very sorry to learn about your experience with customer service. If you'd please contact me directly, I'll be happy to personally assist you and ensure your satisfaction. aecashryan at gmail.com

Lost customer, Score:2.00, Date:Sep 17, 2015, I was a customer with this company for years ordering titles on a regular basis. I started having problems placing orders. All orders were placed via telephone. Titles that were listed as in stock were not being shipped to me when I was told the item/items would be shipped. Each time after my order didn't arrive on time I re-contacted the company to check the status of my order. I was told my order never shipped. This was the situation with the last order I placed with this company. On my last order when I contacted the company to check the status of an order that never arrived I was told the order wasn't shipped. Again, all items ordered was listed on their website as in stock items in addition to being told on the phone the items I was ordering were in stock and would ship the same day or the next day depending on the time of day I placed my order. I canceled the order. I received an email reply from the company confirming my order was cancelled per my request. About a week later one of the two items I cancelled arrived in the mail. First my order wasn't shipped then shipped after I cancelled the order. I completely stopped doing business with this company.

Ryan from Adult Empire , Score:10.00, Date:Jan 30, 2015, Hello Paulo, I'm sorry you had a bad experience. We've been in business for nearly 20 years, we serve thousands of customers a week, and we strive to create the best possible experience for the adult community. We accept PayPal, Visa, Mastercard, American Express, and Discover credit cards. We also accept Money Orders/Personal Checks drawn on U.S. funds. If you card was declined there would be nothing that our customer support department could do; the issue would likely be with your credit card company. If you'd like to contact me directly, I'd be happy to personally assist you. aecashryan at gmail.com

Paulo, Score:1.00, Date:Nov 14, 2014, I couldn't sign in for this site because my credit card was refused by their system. Their client support sucks and didn't help me with at all. Now I have a Videobox membership, because they accepted my credit card and they show a lot more respect for their clients.


Enter comments and rate this site:

Please enter meaningful comments with pros and cons about the site being reviewed. We reserve the right to remove any comment we deem inappropriate or not adding any value to the review. No special characters are allowed in comments. Be careful of using scores of 0 or 10 as almost no site is totally useless or worthless or absolutely perfect.
IP is recorded for security purposes: 52.23.234.7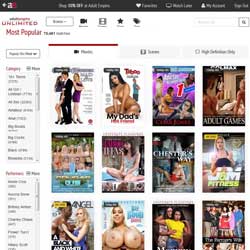 Members Area Previews





Content Quality

9.1 / 10

Content Quantity

9.9 / 10

Exclusive Content

0.0 / 5.0

Download Speed

4.2 / 5.0

Navigation

8.4 / 10

Price / Value

9.2 / 10



$24.99 / 30 days

Latest Review Update: Aug 10, 2018