Adult Entertainment Broadcast Network, also known as AEBN, is a pay-per-view service that offers you access to more than 100,000 pornographic productions without the need to pay an ongoing monthly fee. The concept is simple: sign up and only pay for what you consume, choosing to either download or stream content for different price points.
Content
With 129,936 movies currently available on the VOD (37090 Gay and 92846 Straight Movies ), it should be obvious to most that AEBN is going to cover a hell of a lot of niches. The site's 'categories' index covers everything from anal and Asian through to lesbian and Latina: they even supply more uncommon videos, such as those involving pregnant porn stars and pissing. Put simply, if you've got a wide taste in erotic clips, AEBN has you covered with their monstrous archive of pornography.

It's hard to describe AEBN's content effectively, simply because most of what's on offer here isn't exclusive – it's licensed by third-party studios. There are over 1200 exclusive movies here too though. That said, with the likes of Blacked, Reality Kings, Kink and Vixen providing smut to the site, it is not as if there is any shortage here in the quality department. What's great about sourced content from different studios is that if you don't like the style of one scene, you can switch on other to something else that fits your requirements a little better.

In terms of objective measurements, members have the ability to download or stream clips in 480p, 720p, and 1080p HD formats. Content is supplied via the industry standard MP4 file format, plus an HTML5 embed allows you to stream scenes directly from the porn portal (this saves you a little cash, so you might want to consider this). Some studios also offer 4K quality streaming, although I don't think AEBN currently allows you to download material in this format.

AEBN has recently started to push VR material – I grabbed a few scenes while I was here and used my mobile device to check them out: it was pretty damn good. Clips are broken up into 3D, 360 degree and combo categories: they even have a guide on how to get yourself set up in VR for the ultimate porn experience.

Prices here are done via access minutes, or you can subscribe to get batches of time every single month. 1,000 minutes will set you back around 85 USD but you get some good discounts if you subscribe for monthly billing instead.
User Interface
Navigation is simple enough and the site loads quite quickly: I wouldn't describe the layout as dated, but it feels a few years old and could do with a little polish in a few locations. For instance, multi-niche selection is limited to two categories and isn't presented in the most intuitive fashion. The site offers 24/7 customer support via a live chat feature – something I'm quite happy with.

The servers are super speedy too: I grabbed a few videos and they came at me at roughly 6 MB/s (my connection can't go any higher). AEBN also has pretty in-depth model biographies which you can utilize to find more material from the same girl. For instance, Piper Perri has over 100 scenes available here: it appears to be most of her work all in one location!
Conclusion
I think it goes without saying that AEBN is delivering a stellar product here: some people just prefer to get bits and pieces from different porn paysites and don't want to manage dozens of monthly subscriptions when they can just enjoy individual videos instead.

With a huge archive and support of both 1080p and some 4K quality footage, I can't look past AEBN. Definitely check this place out if you've got VR too – they have some fantastic stuff for you to enjoy.
Enter comments and rate this site:

Please enter meaningful comments with pros and cons about the site being reviewed. We reserve the right to remove any comment we deem inappropriate or not adding any value to the review. No special characters are allowed in comments. Be careful of using scores of 0 or 10 as almost no site is totally useless or worthless or absolutely perfect.
IP is recorded for security purposes: 54.161.31.247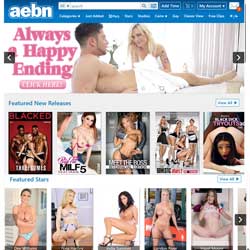 Members Area Previews





Content Quality

9.2 / 10

Content Quantity

9.9 / 10

Exclusive Content

1.0 / 5.0

Download Speed

4.1 / 5.0

Navigation

8.5 / 10

Price / Value

8.1 / 10



$3.95 / 15 minutes

Initial Review : Sep 25, 2018