Asian Sex Diary is a hardcore sex site that sees a guy called John Tron, on an extended holiday around the Asian countries, looking desperately for new and hot Asian babes to fuck.

This site chronicles his search for them and the action that ensues when he finds them. He'll even keep you updated with all the fantastic new locales that he sees, if you are interested!
Content
AsianSexDiary currently has 901 hardcore updates or conquests containing both videos and photo galleries, featuring 532 different girls. There are also 2681 non hardcore updates. None of the photo galleries come with ZIP download, and although they vary in size, the best quality photos here were sized at 1600x1200. Videos are available in Flash Player format to stream only, usually displaying at a best of 1280x720. There are no downloadable movies. The site is currently updating daily and has been for over 6 years running now.

I have seen one or two sites in my time that are of a similar concept to Asian Sex Diary but none of them were really that convincing or entertaining. However, this is a site that definitely does not fall into that category and I would comfortably say that this is easily the best 'travelogue porn' site that I have ever seen. Not much competition out there, admittedly, but this is still a site that sets a very high benchmark for others to follow.

First off, the hardcore action is good and convincing with its girls and the way in which it is all shot. Most of it is in POV style. But it's just a very interesting site overall with this guy seemingly and genuinely on holiday. He keeps us updated with where he is and who he has met and he even date stamps babes to show you that he really did have sex with them on that date! It is a very interesting site all round, both in terms of porn and as a general site. Highly recommended.

There is also a "Try It Out For Yourself" section that teaches members how to travel, stay safe, film and fuck as much Asian pussy as they can handle, as well as a members rewards section where you can earn 'Flight Miles' and use them for various rewards including more pickups and fucks that are not part of his diary that are from his private hard drive plus articles that members submit to participate in both sections.
User Interface
The navigation on AsianSexDiary was actually pretty impressive on all fronts, and that includes with regard to its. Update information could perhaps be a lot clearer on the main members' pages but all of the sets of content are at least dated -in more ways than one.
I liked the background to the episodes themselves that we are given, as well as the fact that the tour was pretty informative as well. The general information about this guy's adventures is absolutely fascinating as well.
Conclusion
I think I would have to mark Asian Sex Diary down as one of the most surprisingly excellent sites that I have seen in. I really, really was not expecting this to be this good. The site has shown excellent growth since our last look thanks to very frequent updates.

It might be the fairly generic title that led to me being surprised, but this really is a terrific and original site that does actually seem to….GASP….be a proper reality porn site! High quality. There is also a special discount for your first month when joining from this review.
Jim, Score:2.00, Date:Jan 25, 2020, This German does live up to the stereotype of boring sex, he does not care for trying new things, positions, outfits, cumshots, creativity...just follow his usual script 2/7. His scenes are so predictable it makes watching nothing to look forward to. He is also a gay and does ladyboys in a different website...makes you wonder if he knows much about straight sex.

Hallier, Score:8.00, Date:Jun 5, 2019, Agree with previous posters. Perfect site except for 3 things. 1 - can not download. 2 - I would like to see more facials. 3 - the girls are too quiet. John makes all the noise. I would like him to encourage the girls to act a little more excited and aroused. Tend to be like starfish. Overall, worth a look.

Buddy, Score:7.00, Date:Dec 1, 2018, ASD is not a bad site, has some pretty girls and the content is updated quite regularly. But $40/mo is rather expensive to watch mediocre girls fucking. ASD has an additional section called "FlightClub", where they post videos of the really pretty girls. However, to gain access to FlightClub you have to either contribute content or pay (in addition to the $40/mo). This was the reason I cancelled my subscription.

Chevy, Score:10.00, Date:May 24, 2018, IMO the best true amateur POV porn site on the web. The shoots and photos are done by one guy John Tron who is chronicling his journey through not only Asia but also at times all over the world. The site includes literally hundreds of shoots with no name, most likely one and done Asian amateur girls though more recently the shoots have included candid POV shoots with vacationing porn stars, such as Gina Gerson. To say the least, there are almost no restriction to the type color age of girl that John will creampie. And creampie he does. Probably 97 percent of the shoots end with John cumming inside a girl. Sometimes he cums after 10 mins, sometimes after 65 mins, sometimes he cums 2 to 3 times in the same hour plus shoot. There is no telling what is going to happen though a creampie is almost guaranteed. And almost disappointing when it doesn't happen. John shoots the girls with various cameras and adeptly edits in a couple of angles, though the primary one is POV. Each shoot includes a streaming only video and usually a series of clothed, nude and sex photos shot pre during and after the sex scene. Each day and shoot includes a small review of what took place and how he met the girl, as a matter of fact many of the shoots include a portion where you get the see the girl talking and interacting with John before they fuck. It truly is a diary and you are welcome to join John on his creampie filled journey. The Cons I guess I wouldnt recommend this site for those that like studio or stunt cock porn where the lighting and conditions are perfect and there are 3 videographers and photographers shooting cheesy poses. Some might not like the fact you can't download the videos. Some may not like that all of the girls arent 10s or some might be chubby or ugly. Well, this is a diary, not a book of perfection.

kenchan001, Score:10.00, Date:Jun 27, 2017, it is one of the best porn site over the world. First of all, this website will upload a new video in every day (you are unable to find other websites like that!) Secondly, you can enjoy more than thousand videos and photos once you join as a member. Most of them are POV videos! Moreover, you can see the different type or different countries girls in the Asia!(Actually, you can find other Europe girls in this website lol) They only offer a monthly and 3 month membership at 39.99 and 89.99 respectively. Also, the year membership only 100! It is valuable and inexpensive when comparing with other websites. It is glad to see you who be a member in this website!!!!!!!

vef3xmfext, Score:10.00, Date:May 26, 2017, This website is awesome because its only amateur and real stuff. Plus its only Asian, so yes for the fan of asian pussy this is the website to follow. All the rest are not worth the money

Penguins01, Score:8.00, Date:Apr 8, 2017, Terrific shoots, wide variety of talent with some seriously beautiful girls. A bit expensive and can't download. But probably the best site around for my taste.

Ian Heddle, Score:9.00, Date:Jan 13, 2017, This site has to be the best asian amteur site on the web. Packed with asian girls from all over the world.Updated daily,HD pictures and videos to satisfy any lover of asian pussy.Ram packed with How to...if you feel the need to follow the master in travelling around some of the best countries in Asia.Excellent personal customer service with any problems/faults with the site.Recommended.

sgmonger, Score:10.00, Date:Dec 17, 2016, This site is simply out of this world! There is no other site that can compare with the kind of girls than John manages to shoot. Not just your average hookers but schoolgirls, milfs, maids, bargirls, and so on!

erlockhunter, Score:10.00, Date:Oct 29, 2016, Really good site. There is unique content every day so you will never be bored. Many good looking girls and many creampies, I ve never seen a website like this before ! I recommand it to everybody who loves asian girls !!!


Enter comments and rate this site:

Please enter meaningful comments with pros and cons about the site being reviewed. We reserve the right to remove any comment we deem inappropriate or not adding any value to the review. No special characters are allowed in comments. Be careful of using scores of 0 or 10 as almost no site is totally useless or worthless or absolutely perfect.
IP is recorded for security purposes: 35.173.57.84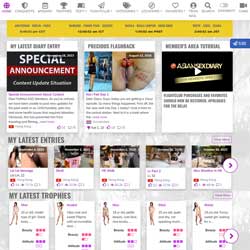 Members Area Previews





Content Quality

9.2 / 10

Content Quantity

9.3 / 10

Exclusive Content

5.0 / 5.0

Download Speed

3.7 / 5.0

Navigation

8.2 / 10

Price / Value

9.0 / 10



SAVE 50 %

$19.95 for First 30 days
(Special Discount Price)

Normal price: $39.95 / First 30 days

Latest Review Update: Apr 20, 2018