20 Dec 2016

Merry Christmas Boobs!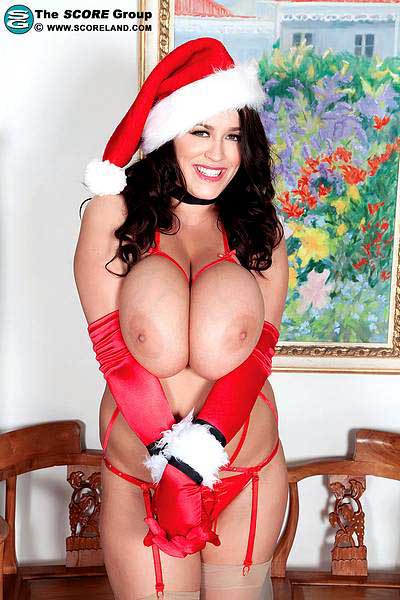 "Leanne Crow Jingles My Bells" - Photo Courtesy of Scoreland 2
When I think about the holidays, I'm not all that enthused. After all, this time of year usually means that I'm deeply in debt, that I have to visit relatives I don't like and that I will probably get snowed in at some point. The only thing that really saves me is Christmas boobs from Scoreland 2.
Ah, there is nothing finer than Christmas boobs. Especially big, bouncy natural ones that are going to swing back and forth like dirty ornaments while the porn star they're attached to gets fucked long and hard. Yes, that is the only thing that salvages this part of the year for me.
Now, don't get me wrong. I don't want to knock the holidays for all of you that thoroughly enjoy it. I mean, I get the appeal of it. The sentimentality of the music and movies, the soft glow of the Xmas lights, egg nog, family dinners and giving and receiving presents. It's all really nice and I did enjoy some of it when I was younger. However, nowadays I am more of a Grinch who loves to say, "Humbug!" and yell about people on my lawn.
If I had my choice, I'd stay at home and fire up Scoreland 2 and enjoy some hot fucking porn for the holidays. I'd buy a supersize bottle of hand lotion and some eggnog, lock myself in my room and not come out until New Years Day or I dropped from dehydration. Unfortunately, I can't do that.
No, I'm going to have to go out and buy everyone gifts; I'm going to have to go to at least one party or family get-together and I am probably going to have to travel to do these things. But I guess, that I'll make it through. I'll just have to get a little bit creative.
What I think I'm going to do is access porn from my mobile phone. That way I can take Leanne Crow and her enormous tits with me. After all, watching her giant boobies bouncing to and fro is enough to jingle my bells for the entire holiday season.
Oh, wait a minute. I forgot to tell you about Leanne Crow. How rude of me. Let me tell you a little bit about this porn star. She was born June 2nd, 1988 in England. She stands 5'7" tall and weighs 165 pounds. She also has huge 44 MM all natural breasts. Yes, you heard that right—they're that big and she has a measurement of 44-30-38. Just watch her taking a bath sometime. It's fucking epic. Go check her out on Scoreland 2.
Well, anyway, go ahead and visit this beautiful babe and all her friends. It's a great way to brighten up the season and make you forget about all of the crap this time of year. I do hope that all of my readers have a Happy Holiday and a Happy New Year. Until next year, be safe out there and be sure to have some fucking fun. I know that I am.
Posted by David