Caution: This review may be out of date
Celebs Private Scenes is a celebrity site that is a mixture of those sex tapes that were leaked out into the public domain without the female celebrity's knowledge, and a collection of the sexiest scenes from movies and TV down the last couple of decades.

From the infamous Paris Hilton sex tapes to Cameron Diaz's S&M sex tape there is just about everything here that any follower of celebrity nudity could want to see. Basically, if you want to find your favourite celebrity hottie in a state of undress, you should find them here!
Content
This site currently features over 500 videos and over 150 image and screenshot galleries as well, with photo sizes varying depending on the gallery in question. All videos are available in WMV format, with the highest quality versions of these formats displaying at 1280x720 at around 4100kbps. I think updates are made about 3 times per week.

Hmm, I thought I was pretty good at keeping up-to-date with who had done celebrity sex tapes but Celebs Private Scenes showed me that my knowledge wasn't quite as complete as I thought it was! For instance, I had no idea that Alyson Hannigan (of Buffy The Vampire Slayer fame) and R&B singer Ashanti had been captured in sex tapes.

Maybe there are just so many of them around these days that it takes a REALLY big personality to be caught in one for it to really hit the headlines as a certain hotel heiress managed to - several times!

Yes, Miss Hilton is here in all her slutty glory as are several other expected participants. A good selection of sex tapes, but probably nothing you haven't seen before. It is the collection of movie and TV clips along with photo shoots and video stills that really propel this site into being something better than it would have been.

There are lots of these sites around these days (I've reviewed several already this year) but this one is competitive with a collection that would rival lots of these sites that I can remember.
User Interface
This site is pretty well presented, acknowledging the need immediately for the celebrities to have their own personal sections, as well as chronological listings and alphabetical order as well.

The videos were large enough and well presented, with some surprisingly high definition videos included on a number of occasions. Download speeds were good, update information extremely in-depth for past and future, but the information about the actual clips was very poor indeed. You don't even get told what movie or TV show they are from which is really a pretty poor show.
Conclusion
It's an indication of just how competitive the celebrity sex clip site niche is that Celebs Private Scenes is actually dwarfed in size by a few other similar sites out there. That shouldn't put you off by any means though because this is still a pretty good site.

I think it's more than a minor problem that no information is given about the origins of clips because people might want to seek out more from that show or movie. But the collection is a big one and quite well put together - it just doesn't really bring anything new to the table.
danny v, Score:7.00, Date:May 22, 2014, vvvv nice


Enter comments and rate this site:
Please enter meaningful comments with pros and cons about the site else your comment will be deleted. We reserve the right to remove any comment we deem inappropriate or not adding anything useful to the review. No special characters are allowed in comments. Be careful of using scores of 0 or 10 as almost no site is totally useless or worthless or absolutely perfect.
IP is recorded for security purposes: 54.80.198.173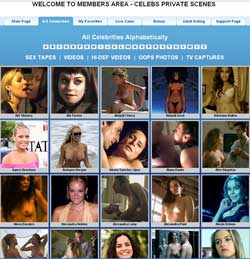 Celebs Private Scenes Members Area Preview


Content Quality

9.0 / 10

Content Quantity

9.1 / 10

Exclusive Content

0.0 / 05

Download Speed

3.9 / 05

Navigation

8.1 / 10

Price / Value

8.6 / 10
$29.95 / 30 days

Initial Review : Aug 1, 2009