Caution: This review may be out of date
Cinema Erotique is a site that looks to blend together classic cinematic styles with adult content. These use many different mainstream cinema styles to create their high-concept videos.

The emphasis is very much on originality and looking to make the content more high-brow than you would normally find, with plots very important to the progress of the entirely video-based content.
Content
There are over 60 videos currently available on CinemaErotique.com, all of which have a varying length, as well as around 45 photo galleries. Most photos can be viewed at 1000x1500.

The videos are available in WMV format at a best resolution of 1920x1080 (2800kbps). There was no hint here as regards update information, but they may be rather infrequent.

Probably one of the biggest gaps between a review and re-review that I've personally dealt with on a site, we first took a gander at CinemaErotique back in January 2006 when it was still finding its feet and indeed its style.

We noted then that it needed a fair amount of improvements and additions and two and a half years on, it has managed to succeed with quite a few of those and indeed branch out into bringing you some photo galleries and striptease videos too.

This has expanded the field of the site significantly, to say the least. The main videos themselves now range from the hardcore spy thriller Hot Cold War to the bizarre almost farce-like Internet Bride.

These are proper movies – they have a plot, but don't worry because they have lots and lots of sex too. There always seems to be a tinge of BDSM in there somewhere, but I thoroughly enjoyed seeing some of these titles. The photo galleries and stripteases back this main course up very nicely indeed.
User Interface
CinemaErotique has significantly improved the presentation of itself since last time, but is still short on browsing options and update information, both of which are fairly crucial.

Still, you can circumnavigate the huge download times on the full-length HDV downloads by going for the lower resolution versions.

The categorisation was good enough, and the addition of trailers was a good idea too, although some fuller synopses of the movies would have been good.
Conclusion
Cinema Erotique remains one of the most original and unusual sites that I've seen for quite some time with some tremendously exciting and entertaining movies, the likes of which I've never seen before.

If you are in the market for movies that give you a little bit more than just hardcore sex, then there are few better places you could go to than this as it is absolutely outstanding stuff and much improved.

CinemaErotique had the following subscription fees:-

$20.00 (14 days, recurring at $10.00 every 3 months)
$25.00 (1 month, non-recurring)
$35.00 (3 months, non-recurring)
$45.00 (6 months, non-recurring)
$55.00 (12 months, non-recurring)
User Score: 4.8 / 10
oi, Score:8.50, Date:Dec 18, 2011, good

Scam scam scam, Score:1.00, Date:Oct 2, 2010, Could not log in after spending $50. This site is a scam......


Enter comments and rate this site:
Please enter meaningful comments with pros and cons about the site else your comment will be deleted. We reserve the right to remove any comment we deem inappropriate or not adding anything useful to the review. No special characters are allowed in comments. Be careful of using scores of 0 or 10 as almost no site is totally useless or worthless or absolutely perfect.
IP is recorded for security purposes: 54.144.21.195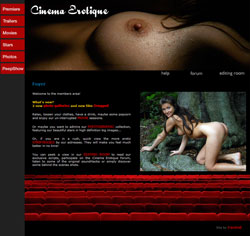 Cinema Erotique Members Area Preview

Content Quality

9.1 / 10

Content Quantity

7.5 / 10

Exclusive Content

5.0 / 05

Download Speed

3.1 / 05

Navigation

8.4 / 10

Price / Value

9.1 / 10
$30.00 / 90 days

Initial Review : Jan 2, 2006
Updated: Jul 28, 2008