Have you ever watched those wife swapping shows and wondered if there is ever any fucking going on? While you might not be able to see that kind of action of regular television, there is a porn site that will show you everything and it is called Czech Wife Swap.

On this reality sex site, you will get to see what happens when two guys swap wives for a whole week, and believe me, it is not about making sure that the houses stay clean or any other stay at house chores. This is more like the guy's cock's get a regular cleaning. This is adult entertainment that you are not going to want to miss.
Content
Most of the time I truly loathe reality TV, especially those wife swap shows. However, that's usually because they're all about serving up some drama. Which also happens to be some of what CzechWifeSwap also delivers—except with one caveat: the wives on the site get fucked and fucked hard.

At the time of this review, this site had 34 videos available. The videos could be played in the Flash format or downloaded in the MP4 format at a maximum resolution of 3840x2160 @ 14000 Kbps. Lower resolutions are also available.

Each "episode" is broken down into 4 or 5 videos that all have a similar format. The first video starts off with the couples looking to swap wives, then over the course of the next several videos it shows them having sex and of course, it has a little bit of drama thrown in (don't worry, it's mostly sex though) and the last video ends it with with a drama filled finale. All like a cum-filled reality tv show.

Of course, if you're into the drama itself, then you are either going to have to read subtitles or now how to speak Czech. After all, the lusicous amateurs on this site are all Czech babes and dare I say, pretty hot ones too.

What's important about these videos isn't so much the drama in them but it's all of the fucking, and there's plenty of that. Everything from POV banging to blowjobs and cumshots. All of the nasty stuff you would want to see in real life.
You also get access to the entire Czech AV Network, so there are over 30 additional sites available as a bonus. These sites include Czech Lesbians, Czech Amateurs, Czech Streets, Czech Gangbang, Czech Parties, Czech Mega Swingers, Czech Sharking, Czech Tiolets, Czech Bitch, Czech First Video Czech Harem, Czech Couples plus many more.. That's a great collection of bonus sites that give members access to a ton of content.
User Interface
This site has a nice interface that is easy to use. Sure, it's a bit simple but that's okay because it does a good job at getting members to its content. It would be even nicer with a search feature but in the end, I feel that it did fine without one.

Some of the downloads on this site are quite large and take quite some to download. The content on it is also date stamped. I really don't know how often they add new content to this site since it's fairly new. However, the 17 videos that existed on the site were added when the site launched—about a month before this review.
Conclusion
There are really only two things that concern me about this site. One, it doesn't have a whole lot of content at the moment and two, I don't know how often content is going to be added in the future. Hopefully, they'll continue to add new content on a regular basis and their site will grow exponentially.

However, while we're waiting for that to happen, I do have to say that the content that Czech Wife Swap does have is pretty damn good and that it is backed by a huge network of sites. So needless to say, if you join, you will have plenty of porn to keep yourself busy with and it is all damn good.
Oldperfessor, Score:8.00, Date:Apr 30, 2018, It's hardly "reality." At least six of the people of the 40 can easily be found on other Czech porn sites. It's still pretty compelling if one exercises a willing suspension of disbelief

Vikram, Score:9.00, Date:Apr 2, 2018, Needed more episodes


Enter comments and rate this site:

Please enter meaningful comments with pros and cons about the site being reviewed. We reserve the right to remove any comment we deem inappropriate or not adding any value to the review. No special characters are allowed in comments. Be careful of using scores of 0 or 10 as almost no site is totally useless or worthless or absolutely perfect.
IP is recorded for security purposes: 107.20.10.203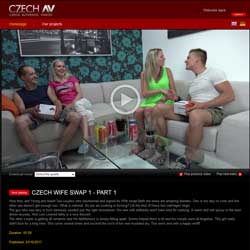 Members Area Previews





Content Quality

9.5 / 10

Content Quantity

5.9 / 10

Exclusive Content

5.0 / 5.0

Download Speed

4.3 / 5.0

Navigation

8.3 / 10

Price / Value

8.4 / 10



$29.95 / 30 days

Initial Review : Feb 25, 2018