Delta Of Venus is quite possibly the internet's most important site when it comes to vintage and antique erotica, digging out rarely seen movie material and old photographs from hidden archives.

It all goes to show that smut and porn are far from being a new thing, and they loved a bit of porn in days gone by. They might have done things a little bit differently, but they enjoyed it as much as we do now!
Content
There are 90 photo galleries as well as 807 videos currently on this site. The photos are available in a variety of sizes. These photos are all hand-selected and each image is hand-restored. Videos are available to download or stream in MP4 format usually displaying at a highest resolution of 800x600 (2800kbps). Updates are added twice every week.

The name of DeltaOfVenus was familiar to me before as one of those 'erotic thrillers' that Zalman King routinely knocked out in the 90s, but is in fact the name of an Anais Nin on which it is based.

Now it is the name of this collection of vintage erotica and pornography, and a pretty good one at that. Embracing content as far back as the 1850s right up to the 1970s, it covers a very broad spectrum along its fascinating journey, and also attempts to inform us along the way.

This isn't all about 'old porn'. With a plethora of articles and stories as well, this is a site for those who are as much interested in the history of adult entertainment (as I am) as they are in seeing the nudey ladies within.

They've uncovered some fascinating stuff here, in particular when tracing back the origins of the burlesque scene that has most recently been brought back into popular attention by the likes of models such as Dita Von Teese. DeltaOfVenus is just endlessly fascinating.
User Interface
I've seen some criticism of some of the quality of the content here, but I didn't see any problems at all – I thought it was all presented extremely well actually and that the quality was marvellous at times.

The back stories to some of the videos were also extremely impressive and entertaining as well as revealing. The download speeds on the videos were also rather impressive to say the least, as was the update information, and I couldn't really fault the navigation on this site at all.

They also take subscriber requests - if members are looking for a certain vintage pornstar or model, or looking for a certain genre and/or time period, they try to prioritize those in their updates.
Conclusion
Priced marvellously and very kindly indeed, you really don't have much reason not to subscribe to Delta Of Venus if you're interested in pornography as a whole rather than just for a quick tug.

They back up some of the content they have by providing some genuinely fascinating commentary and articles on the subject. I'm quite sad in some ways that more sites like this don't exist, but I am thankful for the likes of DeltaOfVenus.
prasun, Score:9.00, Date:Aug 21, 2011, v.v good

tiz, Score:9.50, Date:Jul 24, 2011, fantastic

guddu, Score:7.50, Date:Jan 2, 2011, very good

theb10, Score:9.50, Date:Aug 18, 2009, very good


Enter comments and rate this site:

Please enter meaningful comments with pros and cons about the site being reviewed. We reserve the right to remove any comment we deem inappropriate or not adding any value to the review. No special characters are allowed in comments. Be careful of using scores of 0 or 10 as almost no site is totally useless or worthless or absolutely perfect.
IP is recorded for security purposes: 54.161.31.247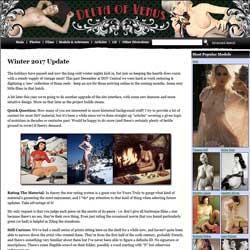 Members Area Previews





Content Quality

8.1 / 10

Content Quantity

7.8 / 10

Exclusive Content

1.5 / 5.0

Download Speed

4.3 / 5.0

Navigation

8.0 / 10

Price / Value

8.1 / 10



$14.95 / 30 days

Latest Review Update: Jan 15, 2017