Dreams Of Spanking is a spanking fetish site that is presented and invented by the top British spanking fetish model and performer Pandora Blake, and brought to you from a female perspective for a change!
This is a site that looks to produce exclusive spanking content that is not only authentic and aesthetically attractive, but that has also been ethically produced with the full consent of everyone involved, including equal pay for everyone.
Content
This site currently features 336 scenes with both videos and photo galleries, with photos displaying at a best of 800x1200 from what I saw. All of the galleries are available for ZIP download, as well. All videos are available in MP4 and WMV formats to download and stream, and they are available at a full HD size of 1920x1080(6300kbps). The site is currently updating approximately twice every month.
Although you would like to presume that all porn produced within physically demanding fetishes such as spanking is ethically produced and with the full consent of everyone involved, occasionally you do wonder if that is always the case. So it was certainly interesting of Dreams Of Spanking to come out and push that side of their site. A good idea, too, because I think it does help most people to enjoy a site more knowing that it was produced in a happy and conducive atmosphere.
Although conceived by a lady, this site does not just focus on the women doling out the punishment. Far from it. This is an equal opportunities site in every single way and that is why it is a cut above most other spanking fetish sites that I have seen. The performers are all professional spanking fetish experts, all of whom know exactly what they are doing and perform specific roles. I was also taken by just how much variety they have within their scenarios and the such like.
User Interface
This is a beautifully presented site that does almost everything right. I think the best part of the user interface on this site was the section dedicated to the cast - all performers have a full bio including links to their own official pages and sites.
Update information is absolutely excellent and keeps you full informed about the recent additions to the site, plus there are also lots of options on the videos to keep you happy. The design of the site is ideal for this kind of content as well.
Conclusion
Dreams Of Spanking is an excellent site that serves the spanking fetish extremely well not just in terms of the quality of the content that they are producing, but also in terms of the general standards it is looking to commit to.
That side of the site is refreshing and certainly welcomed by both performers and consumers alike, and it does give the site a really welcoming atmosphere even despite all the spanking that is going on!
jimbo, Score:10.00, Date:Jul 5, 2020, Dreams of Spanking has been a liberating and educational experience for me. Initially when I subscribed my interest was in seeing women spanked by men in the stereotypical English corporal punishment narratives. Due to Pandora Blakes enthusiasm and openness to diversity I find myself following her on her journey and maturing beyond what was my set identity as an older male Dom. I now consider myself Queer and I am in political solidarity with other LGBTQ plus people and our allies. My tastes and tolerances have expanded far beyond what I could have imagined 10 years ago. My life has been redeemed by Pandoras site. I am so grateful to her and her cast of lovelies x Honestly I cannot come up with a con.

Ramus, Score:10.00, Date:Jul 2, 2020, One of the best spanking sites. With intelligent comments and information by a lady of principle who really cares about the scene and all involved in it. Run by enthusiasts for enthusiasts

DJ, Score:10.00, Date:Jun 20, 2020, I think it's really great to be seeing a site really emphasising the consensual nature and ethical practices of what they are doing - when it's up front and centre you know it would be hard for them to get away with being awful. It's also really great to see an awesome mix of queer content, and everything being fully downloadable means I get to enjoy it my way. Brilliant stuff.

ratn, Score:9.00, Date:Mar 10, 2016, i your like

Bobby, Score:10.00, Date:Jan 2, 2016, Goodgoodgoodgoood

P, Score:5.00, Date:Sep 20, 2015, Closed down :(

sam, Score:1.50, Date:Apr 1, 2014, while i very much like the concept of this site. I find that the english spanking models are no where near as attractive as the european models. Physical attraction is the main detail i look for

Jase, Score:8.50, Date:Mar 22, 2014, It's a great site but I do find the tag that all models and wotnot are treated fairly. This is a website from England and as far as I know, no site in this country would dare treat their stars and those filming in a such a disrespectful way. I find this attitude that this is the only site that cares for their performers rather misleading. I might understand if it was a Russian based site and they wanted to assure us that the girls were treated with respect and fairly, it is obvious sites from this country and Eastern Europe do not care as much for their performers as much as those in the scene in the West. Please do not make out that this is the only site that does this, thank you.


Enter comments and rate this site:

Please enter meaningful comments with pros and cons about the site being reviewed. We reserve the right to remove any comment we deem inappropriate or not adding any value to the review. No special characters are allowed in comments. Be careful of using scores of 0 or 10 as almost no site is totally useless or worthless or absolutely perfect.
IP is recorded for security purposes: 18.207.108.191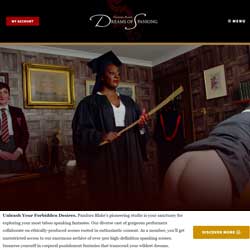 Members Area Previews





Content Quality

9.2 / 10

Content Quantity

8.1 / 10

Exclusive Content

5.0 / 5.0

Download Speed

2.5 / 5.0

Navigation

8.4 / 10

Price / Value

8.4 / 10



$24.84 / 30 days

Latest Review Update: Jun 18, 2020