Exploited College Girls is an original amateur porn site that features one guy discovering some of the hottest new girls in porn, and sexy new amateurs who just wanted to be porn stars just for one day.

Featuring lots of POV and gonzo action, this dude's site has plucked some gorgeous girls out of obscurity and sent them on their way to porn stardom. See if you can spot the more famous girls, sometimes working under a different name here!
Content
This site currently hosts 658 updates, all of which feature a video and a photo gallery.  Most of the images usually displaying at 1200x1600.  There were .ZIP downloads on all photo galleries here. The videos usually display at their best at 1280 x 720 at 4000kbps, Other resolutions are also available. They are available in MP4, Flash Player or WMV formats, and there are downloadable and streaming options. This site is updated on a weekly basis.

Exploited College Girls is a site I have heard a fair bit about in terms of gathering a reputation as being run by a real 'star maker' in the POV hardcore genre. Of course, it would have been nice to have had some more information about the site as a whole, but this really does turn out to be a fair bit better than I expected it to be. The name just sounds like another amateur girl website, but the content and indeed the hotness of the majority of girls involved elevate this site a lot.

The thing about this site is that it claims the usual - girls losing their virginity, their first time on camera and so on. But this one means it. This really is a warts and all site, leaving in the scenes where girls struggle with a particular type of action (some girls genuinely seem in pain during one or two anal scenes!), making this far more realistic a site than you would normally see. It really is a superb site and I actually fully believe most of their claims. How often can you say that about an amateur site?
Full access to Backroom Casting Couch, Black Ambush, Net Video Girls and Broke Model is Included with your membership
User Interface
The navigation here was something that I think could be improved to really help the site be more successful. The free tour tells you nothing about the content and its background, and the guy running it and does a poor job of promoting itself.

They deserve to sell themselves better. The members' area indexes are slightly confusing too and they need straightforward photo and video indexes. The descriptions of the episodes though are completely fantastic and the biographies of the girls were very useful.
Conclusion
Exploited College Girls is a site that really does deserve to be more widely known. The site has shown substantial growth since our last review in 2014 and has almost doubled in size since then. This is really a great amateur hardcore site you should not miss out on.

There are some very realistic hardcore scenes here and many girls are clearly doing this for the first time. It's that realism coupled with a great sexual and photography performance from the guy behind this site that makes this one of the most impressive such sites you will see. This really is great stuff.
paulgiacomio, Score:9.50, Date:Mar 13, 2014, Happy to see Steve again.Luv it.Luv it.Luv it!It's perfect.ECG girls think the experience of having sex often with one or two guys their own age in their life is all they need to have the confidence to get rich doin porn - starting at ECG.This is where Steve comes in.You see, a middle age guy who knows fifty ways to fck and make young girls orgasm with techniques they cannot comprehend is why it is sooo great to have him back.Watching Steve gently (don't want walkouts!) push and exploit(!) these inexperienced experienced girls until they unexpectedly orgasm over and over from oral(my fav), toys,anal toys,anal,asslicking (ok this is actually my fav),doggy with arms held,rev cowgirl (maybe this is my fav) is what this site is about and sets it apart.When Steve gets unassuming girls to cum more times than they ever thought was humanly possible let alone that they orgasmed at all from such unexpectedly pleasurable things as having her asshole licked while he rubs her clit and then reminding them to tell us horny guys they are cumming as she orgasms each time- well that is a recipe for addiction- both for her, and us.Since J is shooting a couple girls a week now a few more updates each week and the return of Steve is just what we longtime fans have been waiting for to continue membership.Thanks for this service and here's hoping to see more shoots with Steve!!!! Wish he would have been able to eat addyson!

robtesla, Score:10.00, Date:Jan 31, 2014, I keep cumming back to this site

malik, Score:10.00, Date:Oct 27, 2012, i like it

bauee, Score:8.50, Date:Aug 15, 2011, good


Enter comments and rate this site:
Please enter meaningful comments with pros and cons about the site else your comment will be deleted. We reserve the right to remove any comment we deem inappropriate or not adding anything useful to the review. No special characters are allowed in comments. Be careful of using scores of 0 or 10 as almost no site is totally useless or worthless or absolutely perfect.
IP is recorded for security purposes: 54.80.198.173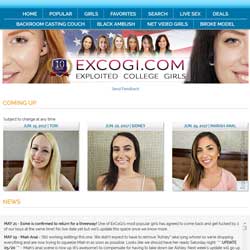 Exploited College Girls Members Area Preview


Content Quality

9.1 / 10

Content Quantity

8.7 / 10

Exclusive Content

5.0 / 05

Download Speed

4.3 / 05

Navigation

7.8 / 10

Price / Value

9.0 / 10
$24.95 / 30 days

Initial Review : Jul 10, 2010
Updated: Jun 12, 2017