Gorgeous girls, beautiful bottoms, sound spankings – that's the promise delivered to you by
Firm Hand Spanking
! This is genuine spanking action delivered to you by genuine spankers!
Promising a massive selection of exclusively shot video clips, many photo galleries, and even a collection of archive footage of spanking action from around the world!
Content
There are currently 943 videos available to view, as well as around 28,468 photos. Most photos display at 1200x800. The videos are available in WMV and Real Media format for the most part, and they display at 640x480 (1500kbps). Updates are made three times per week.
I think it's only right, considering the content of this site, that Firm Hand Spanking receives a review that is firm but fair. It is of course only right after all – that is what most of the performers tend to be here! In terms of spanking content, I don't actually think I've come across a more complete site than Firm Hand Spanking in the few years that I've been reviewing naughty content. And that really has got to be a pretty big compliment.
It's not just size that stands Firm Hand Spanking in good stead, but the content really is frightfully good. There are some quite superb performers and performances here and they really are the cornerstone of what has grown into a superb site. Plus, they're quite right about the gorgeous girls – this is a site that wants to make sure that the content isn't just spot on but that the girls are also absolutely immaculate and pretty to look at.
User Interface
The site could perhaps do with spending a little time sorting out its navigation because at this moment it really is a little bit of a mess in places. I couldn't find an actual models' index here although I'm sure there is something like that lurking here.
There is some good update information here, but the existence of only some rather crummy Real Media downloads on the videos is something of an irritation too.
Conclusion
Firm Hand Spanking overcomes any difficulties that it undoubtedly exhibits in terms of its navigation to craft an absolutely excellent spanking fetish site that works on practically every level.

If you are a fan of this niche, don't be too worried by the use of glamorous looking models – none of the action here is compromised as all these girls know what they're doing.
David, Score:8.50, Date:Jan 21, 2014, This is one of the classiest spanking sites - or maybe THE classiest. An amazing range of pretty ladies are punished in a variety of scenarios with something for most tastes from spanking to strapping, paddling to caning. The girls are mostly beautiful, the action real. Not sure what Tony means by "cheap settings" as they seem to use multiple locations in both the USA and I think London. Some of the best spanking models I've ever seen are here, and I haven't seen them elsewhere which makes it even more special. All in all, I recommend it if you're into pretty girls being punished!

Bill Ray sr, Score:9.00, Date:Sep 9, 2010, There is not much,not to like. One thing wood make me happier. Would be to see you all stick to the name sake more,by haveing more over the knee hand spankings. When It's done with the hand it makes it more personal. Thanks.

Tony, Score:6.00, Date:Sep 6, 2010, Samantha Woodley,Allison Miller, and abagail Whitaker are truly classy and entertaining. The new models, especially the pink haired wonder are terrible. No feeling,no emotion,no class. The settings are cheap and repititous.

Tony, Score:6.00, Date:Sep 6, 2010, Allison Miller,Abagail Whitaker and Samantha Woodley have class. The newcomers especially the pink haired wonder are as atrocious as the repetious cheap settings.


Enter comments and rate this site:

Please enter meaningful comments with pros and cons about the site being reviewed. We reserve the right to remove any comment we deem inappropriate or not adding any value to the review. No special characters are allowed in comments. Be careful of using scores of 0 or 10 as almost no site is totally useless or worthless or absolutely perfect.
IP is recorded for security purposes: 3.235.137.159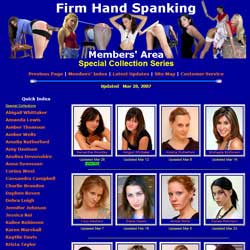 Members Area Previews





Content Quality

8.5 / 10

Content Quantity

9.4 / 10

Exclusive Content

4.5 / 5.0

Download Speed

3.2 / 5.0

Navigation

8.0 / 10

Price / Value

8.6 / 10



$24.95 / 30 days

Latest Review Update: Jan 22, 2010