Download over 2000 full length DVDs for a low monthly price with no hidden charges, no download limits, and no DRM?? And it's updated every other day with a new full-length DVD? For only $15.00 a month?

Where do I sign up?? Previously Gay Videobox, but now called Videobox Men, promises all of the above for an insanely low rate with a great amount of content. Seem too good to be true ? - read on ..
In addition with your Roku box and a subscription to this site, you can watch all your favorite porn streamed directly to your TV, this is an awesome enhancement !
Content
The movies are available to stream or download in Flash, WMV, MP4 and mobile formats.  They display at best at 720x480(3000kbps). All movies also have descriptions for your convenience, and they even include the cast names so you can find new favorites. The site offers 2073 full length DVD-quality movies at a low price. That is 9,508 scenes. How do they do it? According to their FAQ, they rely on word-of-mouth-advertising rather than other costly advertising methods, thus keeping their overhead to a minimum.
The site is nicely categorized in a variety of ways for your surfing pleasure. You can view DVDs by genre, 65 of them -- from "sex pigs," to interracial, to glory holes, to rimming, to DILFs, and everything in between. Each DVD has a slew of key words associated with it (hung, amateur, hairy, etc), so when you do a search, you're more likely to get the type of content you're looking for.  Considering what they're offering, and how some sites are starting to operate nowadays, that's a notable feature.
Every movie is divided into shorter clips, with a nice display of thumbed screencaps to preview before you download. The clips are pretty big. The download speed are very good, but if you do not have a high speed broadband connection, get ready for some long downloads on the full length movies. The quality is excellent so it is well worthy the wait. These days most people do have broadband so this is not really an issue at all.
What's really nice about Videobox Men is that, despite potentially long downloads, they've done a really nice job of making the site as video-friendly as possible. Along with plenty of screencaps, you get a very cool feature where you can drag any screencap from any scene into a video box, and start your movie at the scene that looks most appealing to you.
User Interface
The site is very clean, very easy to navigate, and has great search functionality. You can search by keywords and titles, studio, star, or series. Every section has the ability to sort by name, date, or popularity. You also get nice tabbed browsing for individual movies that show general DVD information and description, or you can choose to view the scene index and screencaps. You can also add DVDs to a "My Stash" area. The attention to detail is excellent. The update schedule-- they update every other day with a new full-length DVD-- is consistent and a great value.
Conclusion
Videobox Men offers an incredible value at an incredible price, and they're not pulling your chain. I loved that I didn't feel bombarded by ads and third-party content, and the site was so easy to navigate that the long downloads of the bigger files sort of didn't matter at that point.

While some categories may only have a few DVDs, many of the categories have quite a big selection to choose from. The update schedule rocks, and you will find plenty of hot hardcore in most niches to keep you happy. Sites like this make me happy, and restore my faith in porn's ability to actually deliver great quality and great service at a great price... I highly recommend Videobox Men.
Mfais123, Score:8.00, Date:Oct 29, 2013, good

donie, Score:8.00, Date:May 19, 2011, good guys

max, Score:5.00, Date:Apr 15, 2011, gay

1860, Score:5.00, Date:Apr 15, 2011, GAY

march, Score:7.50, Date:Dec 11, 2010, It's so cool

jay, Score:10.00, Date:Jul 29, 2010, very good enjoyed it a lot, excellent selection of movies

david, Score:8.00, Date:Mar 14, 2010, coool

mike, Score:10.00, Date:Feb 14, 2010, bueno

josep, Score:10.00, Date:Feb 11, 2010, Download over 1170 DVDs per month with no hidden charges, no download limits, and no DRM?? And it's updated every other day with a new full-length DVD? For only

mauricio, Score:10.00, Date:Jan 31, 2010, nice


Enter comments and rate this site:

Please enter meaningful comments with pros and cons about the site being reviewed. We reserve the right to remove any comment we deem inappropriate or not adding any value to the review. No special characters are allowed in comments. Be careful of using scores of 0 or 10 as almost no site is totally useless or worthless or absolutely perfect.
IP is recorded for security purposes: 54.163.20.123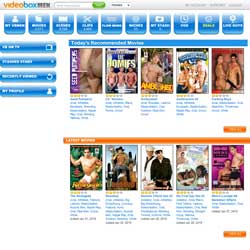 Members Area Previews





Content Quality

8.5 / 10

Content Quantity

9.5 / 10

Exclusive Content

2.5 / 5.0

Download Speed

4.2 / 5.0

Navigation

9.0 / 10

Price / Value

9.1 / 10



$15.00 / 30 days

Latest Review Update: Dec 28, 2018