Caution: This review may be out of date
Stop: This review is inactive due to the site closing or some problem with the program running the site. We recommend you look at the many other great sites we have reviewed in this category.
Girls Boarding School believes it is the premier spanking site - bar none! For these misbehaving schoogirls, strict discipline and punishment are the order of the days for their continued misdemeanours. Broken rules are simply not going to be accepted here.

These girls will end up being punished in the old-fashioned but effective methods. Their asses are going to end up absolutely red raw as they are spanked mercilessly by hand, paddle or even by a cane. Anyone would think that these girls enjoyed being punished….
Content
GirlsBoardingSchool.com currently contains 552 updates, the majority of which contain both videos and screenshot / photo galleries. Most images on the site display at a size of 1500x1000px

The videos are available in Real Media and WMV format. The most recent videos are all available in WMV format, but the majority of videos overall are only in Real Media. Overall, the highest quality videos play at 720x576px. There was no update information here that I could see.

Well, the girls on Girls Boarding School really did get the crap spanked out of them on some occasions! I've always wondered how these girls who star on these sites recover from having their bottoms roundly battered for such a long period of time.

Rubber rings all round, I would suggest! This is really one of the largest and most impressive spanking sites that I've ever seen. Actually, scrap that - it is THE biggest site in this fetish that I've ever seen, but how does it fare on the most important front - quality?

It does fantastically well. Not all of the updates here are exclusive to the site - between about 5-10% of them are bonuses from other similar sites. But the majority of an amazingly large collection of content is exclusively shot by the site itself.

The performances are classy and enjoyable and don't feel at all forced on any occasion, and there is a nice authentic atmosphere to the site that really sets the scene well. The girls are sexy and pretty - not always nude, but lovely to look at nevertheless.

There are a whole host of bonuses video feeds that are related to this fetish on offer here, absolutely loads in fact.
User Interface
The navigation here really did have me torn in terms of its quality. The index pages themselves didn't initially look all that impressive in terms of their set up but actually they were filled with lots of very good information and were generally very decent.

The browsing options on the updates weren't that expansive though and you are pretty much stuck with the same option - also, many videos were lumbered with Real Player, which I don't think is anyone's favourite video player!
Conclusion
Girls Boarding School is a fantastic spanking fetish site, quite possibly the best ever site in this fetish that I've seen. It really has everything that I think fans of a simple spanking fetish site could possibly want especially as acted out in this school scenario.

The girls are wonderfully pretty and take their punishment without a hint of discomfort (if you know what I mean!), while the spanking itself is extremely hardcore at times. There is no sex here, but you won't need it if you're a fan of this fetish - it has everything that you should need.

GirlsBoardingSchool has the following subscription fees:-

$34.95 (monthly, recurring)
$69.95 (3 months, non-recurring)
$119.95 (6 months, non-recurring)
$179.95 (12 months, non-recurring)
Enter comments and rate this site:
Please enter meaningful comments with pros and cons about the site else your comment will be deleted. We reserve the right to remove any comment we deem inappropriate or not adding anything useful to the review. No special characters are allowed in comments. Be careful of using scores of 0 or 10 as almost no site is totally useless or worthless or absolutely perfect.
IP is recorded for security purposes: 54.80.198.173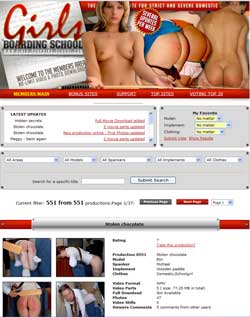 Content Quality

8.7 / 10

Content Quantity

9.1 / 10

Exclusive Content

4.5 / 05

Download Speed

4.2 / 05

Navigation

8.6 / 10

Price / Value

8.8 / 10
$34.95 / 30 days

Initial Review : May 7, 2009