The world is changing and the sexual nightmare is coming. Nobody has seen anything like this yet. Bizarre pleasure full of horrors. This is the real face of the dark side. Lock your doors, board your windows because the most perverted desires just became real. This is what you have been looking for all your life.

This site brings you exclusively produced movies, all of which have a variety of horror themes within. You might recognise them from movies, TV shows and books - but they have never looked like this before.
Content
This site currently offers 31 videos, most of which are around 15 to 30 minutes long, but there are no photo galleries on this specific site at the moment in time and I would not imagine that any will be added in the future. Videos are available in MP4 format to download, and in Flash for streaming. The size and quality of the videos on the downloads was at an Ultra 4K HD 3840x2160px(12000kbps). There was no update information on this site so we are unable to assess how often this site sees new content

I'm a horror movie fan. And obviously, I'm a porn fan too. So it's often surprised me how few sites and companies have looked to meld the two together, I'd have thought there would be a huge audience in the making. Horror Porn is a site that comes along at a good time, with horror movies making massive impressions at the box office and with porn now able to present itself in Ultra 4K HD quality movies that really bring out the best in the aesthetic they're trying to present.

And I have to say I was really impressed by what I saw here. This is a site clearly made by people who know just as much about horror as they do about making porn. There are numerous references here for all horror fans to enjoy plus the imagery on show is actually rather impressive. I'm very, very hard to scare so I wouldn't say anything here scared me but the look and presentation make this as authentic as many mainstream horror movies.
User Interface
The user interface of the site was good enough and it was very well designed. The only disappointment here is that there is no update information, a big absence on what is a pretty small site.

The descriptions on the videos were good to see however, and all of the videos are tagged. It might have been good to have seen an index of the performers here as well, to be able to follow their other work.
Conclusion
I think there is a lot to recommend Horror Porn for. It's a site that is pointedly aimed at fans of horror and makes no pretensions to appeal to those who are not normally into this genre of fiction.

The horror side of the site was extremely well performed and shot, and as a porn site is unorthodox and quite unlike much that I've seen before. It's expensive, but a rare occasion where a site is worth it.
Enter comments and rate this site:

Please enter meaningful comments with pros and cons about the site being reviewed. We reserve the right to remove any comment we deem inappropriate or not adding any value to the review. No special characters are allowed in comments. Be careful of using scores of 0 or 10 as almost no site is totally useless or worthless or absolutely perfect.
IP is recorded for security purposes: 18.212.93.234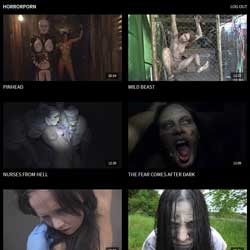 Members Area Previews





Content Quality

9.7 / 10

Content Quantity

5.6 / 10

Exclusive Content

5.0 / 5.0

Download Speed

4.2 / 5.0

Navigation

8.0 / 10

Price / Value

7.2 / 10



$39.95 / 30 days

Initial Review : Feb 22, 2018