Hot Legs and Feet is a high class foot and leg fetish site, brought to you by the widely lauded adult photographer Denys Defrancesco. Boasting a fabulous archive over 15 years in the making, and a huge collection of exclusive photo galleries and HD videos, this in in many ways, could be the biggest site in this niche around.
The site showcases beautiful stunning babes carefully selected by Denys Defrancesco, for their hot bodies, luscious legs, perfect feet and succulent toes and playful personalities. The site covers the foot fetish across a wide variety of sub-genres, featuring well over 1423 models in the process. You can ALWAYS be guaranteed the best-looking foot and leg fetish performers here, but just wait until you see what else they get up to here….
Content
There are currently 2777 updates with both HD videos and high resolution photo galleries. The photos display at around 2000 x 1300 pixels, with all photo sets available to download in ZIP files. Videos are available to stream or download in MP4 format. They display at best in Ultra 4k at a resolution of 3840x2160 (15000kbps) and also in 1080P High Definition at 1920x1080(12.00Mbps) for fantastic quality HD videos. Lower resolutions are also available. Some of the older videos may not be available in high definition. Updates are made on a weekly basis.
Hot Legs And Feet is a site that places as much importance on the attractiveness of the girls as it does on the feet and legs of them. Whilst some purists might raise an eyebrow at this decision, as far as I'm concerned it is a completely justifiable decision. This is a sensational site from start to finish that practically never lets up in its high levels on quality. The range of content, for starters, is superb. Covering both soft core and hardcore in in-depth quantities, as well as lesbian, solo and a smattering of other fetishes. This is not a site with just some pretty girls in sexy stockings and knee-high boots.
The rest of the content matters too, meaning that at no point are you likely to tire of this site. Most importantly though, the main fetish is covered in perfect detail with the focus on that not letting up for one second. The girls are a wonderful selection. With this being a mostly European selection, you would expect certain names to crop up and you would be right. Eve Angel, Sophie Moon, Monica Sweetheart and Veronika De Souza are among the very familiar figures that they on hand here to provide some breathtaking examples of this niche.
Monica Sweetheart provides her typically hardcore contribution to the market with some fabulous sex action with both men and women, and is, as she always is, one of the highlights of the site. With 1423 models though, you are bound to find plenty to drool over here. I found the videos here to be perhaps the best ones in the entire collective. The girls might well provide some sexy moments here, but the photography here is really what adds to the quality.
The use of angles and lenses adds extra atmosphere to the whole venture and in a genre which is very much bedded in eroticism, the camera work succeeds in making sure this is very much the case. There really isn't much NOT to recommend !
User Interface
The site is as good as you would expect, with the models index being particularly excellent. The download speeds were quite superb considering the size of the site, and surfing was a very easy experience.
And as for those updates ? I can only presume Denys never actually sleeps! The video and photo viewing options are excellent. Good search facility to. Overall this site is a great user experience.
Conclusion
Very rarely does a site have so much about it that is going to pull in outsiders in their droves to its charms, but Hot Legs And Feet is exactly such a rare site. A beautiful girl is a beautiful girl after all, and with so many of them here, it is an enticing proposition whatever they're doing.  The site continues to expand its archive thanks to regular updates  and has grown substantially since our last look.
This is a site that has been wrongly titled, in my opinion. 'Hot' doesn't really properly describe the temperature of this site – 'surface of the sun' might have been more accurate. Denys Defrancesco has done it once again and if there is a better collective of adult sites on the internet than the DDF selection, then I have yet to see it. This could be its crowning achievement. Remarkable stuff.
You can also access this site as part of the DDF Network
*** Please note: Be careful of pre checked or pre-selected cross sales on the join page. Make sure you uncheck or de-select those options, unless you want these extras, as you will be charged extra for them.
???, Score:9.00, Date:Apr 25, 2018, Very Good foot fetish site, video quality is excellent and teh models are beautiful

Eric wilson, Score:10.00, Date:Oct 25, 2014, I want my black stockinged feet fetish fantasy to come true

jag, Score:8.50, Date:Jun 15, 2011, super

dhoom, Score:10.00, Date:Oct 11, 2010, Very sexy


Enter comments and rate this site:

Please enter meaningful comments with pros and cons about the site being reviewed. We reserve the right to remove any comment we deem inappropriate or not adding any value to the review. No special characters are allowed in comments. Be careful of using scores of 0 or 10 as almost no site is totally useless or worthless or absolutely perfect.
IP is recorded for security purposes: 18.206.194.134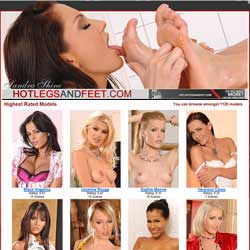 Members Area Previews





Content Quality

9.5 / 10

Content Quantity

9.9 / 10

Exclusive Content

5.0 / 5.0

Download Speed

4.3 / 5.0

Navigation

8.8 / 10

Price / Value

9.4 / 10



SAVE 45 %

$14.95 for First 30 days
(Special Discount Price)

Normal price: $26.95 / First 30 days

Latest Review Update: Feb 9, 2019