Caution: This review may be out of date
Karstens Adult Art is the official website that showcases the work of adult cartoonist and animator Kevin Karstens. He is one of the most highly respected and renowned animator of adult content around and this site brings you a lot of his very best work and more.

Karstens is gifted in many different styles of animation, including traditional Japanese 'hentai' styles and also a more Western and humorous style of animation as well. Look out for a great and varied styles but also a great variation in themes and content.
Content
There are currently 35 photo galleries, with most of the photos displaying at an abundance of different sizes depending on the galleries. There were also a number of videos but the resolution of these varied depending on the video. Updates are often made weekly.

The fact is that there are so few sites on the internet dedicated to original and unique animated content that sites like Karstens Adult Art really are gems that need to be kept hold of! He's clearly a very talented artist as his non-adult stuff goes to show.

In fact, it's probably best to regard this site as dedicated to his all-round work because there's plenty of other stuff on show here to prove that. But his ability to excel at all styles from Japanese hardcore hentai action to surreal eastern European stars makes the mixture a good one.

The only major confusion or complaint here was with regard to the videos as I didn't quite understand what these were about. The video section is supposed to be some kind of file-sharing community but it doesn't seem dedicated to the work of Karstens to me.

In fact, the majority of them have no connection to adult animation at all. I may have missed something with these but I must admit to being slightly confounded by them. Still, he clearly has talent to spare and his galleries are fascinating and really enjoyable.
User Interface
I struggled with the navigation on the site at times, I have to say. The frames-type layout didn't work brilliantly for me even with the content divided into categories by themselves.

There were some vague dates on some of the galleries but nothing really concrete on any of them. The video section was immensely confusing and I really didn't know what was going on with the organisation of it. I think it needs to be clarified immediately where exclusive videos may be or even if there are any.
Conclusion
There are many positive sides and points about Karstens Adult Art that deserve to be aired. The extremely low subscription prices are a really nice surprise and the quality of the animation and the abilities of Karstens are a real treat to say the very least of them.

But the talking point over the videos is bound to be something that many members will want to see solved or addressed. The image galleries and images though are a great showcase for a very good artist and hopefully these will increase by some size.

Membership fees are as follows:-

$5.00 (14 days, non-recurring)
$8.95 (monthly, recurring)
$48.00 (177 days, non-recurring)
$98.30 (12 months, non-recurring)
Enter comments and rate this site:

Please enter meaningful comments with pros and cons about the site being reviewed. We reserve the right to remove any comment we deem inappropriate or not adding any value to the review. No special characters are allowed in comments. Be careful of using scores of 0 or 10 as almost no site is totally useless or worthless or absolutely perfect.
IP is recorded for security purposes: 3.85.143.239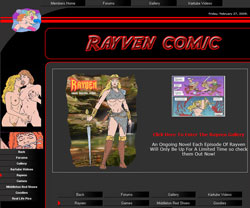 Members Area Previews





Content Quality

8.1 / 10

Content Quantity

7.0 / 10

Exclusive Content

5.0 / 5.0

Download Speed

4.0 / 5.0

Navigation

7.4 / 10

Price / Value

8.4 / 10



$8.95 / 30 days

Initial Review : Mar 20, 2009