Louis De Mirabert is the official website of a French glamour photographer who specializes in highly stylized erotic imagery using a beautiful and well-ranged selection of models.

He is primarily interested in creating original and breathtaking images the likes of which you have never seen before, and this website gives you the opportunity to look at his very unique style.
Content
There are currently 224 photo galleries accompanied by 526 videos. The photos mostly displayed at 2592x3872 at their highest resolution. They can however all be viewed in a selection of sizes thanks to ZIP download galleries. The videos are available in MP4 format, displaying at a best of 1920x1080 (11000kbps). The update schedule is unclear. There are recent dates but we are not sure whether content is being rotated as the photo gallery count did not increase since our last review. The video count however increased very substantially since the last review and it is also a lot better quality in 1080p HD.

In a market where there are so many photography sites, one might question if there is room for any more of these sites. When you actually have a thorough look through LouisDeMirabert you realize there is plenty of room, especially so when you have the time, patience and ability to create content that has a distinctive style and sheen to it that little other content can produce.

All these points apply to this site – it's a site that is truly distinctive and a really wonderful collection of content. The models are brilliantly selected. Whilst names like Ashley Robbins, Mili Jay and Suzie Diamond won't be new ones, the big names are very much secondary here.

Most crucially for me is the fact that this site uses that rare commodity in glamour and photography sites – black models and Oriental models. Why these types of girls are generally ignored is beyond me. When you see not only how ravishingly gorgeous Felina is, for instance, but how well she is used, you realize that LouisDeMirabert is really quite a way ahead of its opposition in some regards.
User Interface
LouisDeMirabert gives you most of the things that you would with the navigation for a site like this. Admittedly, it may not look quite as pretty as much of the content that it exhibits, but the dark tone of it matches the mood of much of its photography perfectly. There are separate sections for Photos , Videos and Models. The download speeds on the videos were especially impressive. However, the model indexes were extremely good for the most part.
Conclusion
Louis De Mirabert has shown some growth and improvement since our last review. Typically French in its approach with devilishly sexy strokes of beauty, this really is a thoroughly excellent site.
I'd like to see more of some of the models, but the fact that he has seen a gap in the market for ethnic glamour models and exploited it with beautiful content is completely to his credit.
Subscription fees:-
$19.95 (monthly, recurring)
$24.95 (monthly, non-recurring)
Enter comments and rate this site:

Please enter meaningful comments with pros and cons about the site being reviewed. We reserve the right to remove any comment we deem inappropriate or not adding any value to the review. No special characters are allowed in comments. Be careful of using scores of 0 or 10 as almost no site is totally useless or worthless or absolutely perfect.
IP is recorded for security purposes: 35.172.165.64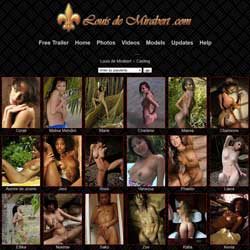 Members Area Previews





Content Quality

9.2 / 10

Content Quantity

8.3 / 10

Exclusive Content

5.0 / 5.0

Download Speed

4.0 / 5.0

Navigation

8.4 / 10

Price / Value

7.6 / 10



$19.95 / 30 days

Latest Review Update: Nov 5, 2018