Met Art is a massive and acclaimed nude photography site that has been online since 1999, and has become renowned as one of the finest examples of adult and erotic high art photography currently online.

MetArt brings art into soft core 18 and older teen porn! With beautiful photographs and even more beautiful specimens, naked never looked so good! Hundreds of photos and hours of sexy, sensual video will bring you one step closer to these amazing young babes.
Content
MetArt currently features over 22,668 photo sets and more than 1813 videos featuring over 3843 models. The photos here can be witnessed in multiple sizes and high definition formats if you so wish displaying in sizes up to an astounding 3700x5600, with ZIP files available for all photo galleries . The videos are available to download or stream in a multitude of formats and resolutions, including MP4, DivX and WMV. You can watch the videos at a best quality in Ultra 4K at a resolution of 3840x2160(39,200kbps) or in 1080p at a resolution of 1920x1080 @ 10.12 Mbps. Lower resolutions are also available. Generally the MP4 versions have the highest resolutions. The site is updated several times per day.

It doesn't take long for Met Art to show you precisely why it has been one of the most universally acclaimed and award winning adult sites of the last 21 + years. This staggering nude photography site just continues to go from strength to strength, continuing its quest to find Europe's hottest 18+ teen models, and photographing them as beautifully and sumptuously as you are ever likely to see. This really has to be regarded as the benchmark site in the high art photography market.

Its claim to be the most imitated nude art site in the world is difficult to argue against, I must say, and you can see many themes that you'll have seen elsewhere. But this site does them better than the rest. The girls are just absolutely wonderful – the constant stream of girls that are not just good-looking but almost always absolutely stunning is really quite overwhelming. And then the skill of the photographers to make them look even more beautiful with some outstanding photography just raises the bar.

Amazingly, the site also accepts amateur submissions from photographers wishing to have their work and models displayed on the site – how many other sites throw their doors open to new talent like that? The content is largely solo soft core and girl-girl in nature, but anyone expecting content repetition needs to think again. Met Art constantly challenges itself to give the customers stuff that they haven't really seen before.
User Interface
This really is how I would like all sites to be presented, but unfortunately this isn't an ideal world! With photos and videos presented in formats that make them friendly to both followers of high and low definition downloads, and an extraordinary range of browsing options on both formats, the early impressions are very good.

The regularity of updates is simply extraordinary and at no point do they threaten to become too much for the subscriber. The content is beautifully categorized too and particular models are very easy to find. There is a good model directory with links to that models content sets. The download speeds are also among the fastest I have seen. Met Art is just flawless in every aspect.
Conclusion
It's not often I say this but I really do think that the makers of Met Art have hit the ceiling of what they can achieve with this site. It's hard to imagine that it can get any better than it is now. This site is consistently amazing and you will not be disappointed !

Even though it does not seem possible, the site has improved even more since our last look. It has much more content thanks to very regular updates, plus more stunning babes and very high quality Ultra 4k HD movies. This is really excellent stuff !
Me, Score:10.00, Date:Apr 1, 2023, Gorgeous naked girls in high-resolution. Many many many girls there already, with regular frequent updates. Good customer support, well worth the money.

capricious, Score:10.00, Date:Mar 4, 2021, Met-Art is the best softcore. It's tasteful erotica and a must for anyone looking for a more artistic spin on the genre.

jack, Score:10.00, Date:Oct 16, 2017, Met art is not even porn. Its discreetly implied sexuality. Its classy and all in good taste. Its genuine art and culture.

Jerry, Score:9.50, Date:Jan 28, 2017, Will hold off it being a 10 simply because you always have got to have room for improvement, but really, this site is a 10. The photography is excellent, the women are beautiful, and if you like nice sensual photos of women, this site is it, it has NO rival!

Ben ivanoff, Score:9.50, Date:Apr 3, 2015, The most beautiful and natural women and its not dirty evil kind of porn its more sensual where its almost like you are there in the scene,this is how I like to see women cause they aren't animals they are human with feelings left me the rest of us...if you want classy porn I give these girls the thumbs up :-)

Jesper, Score:8.50, Date:Jun 18, 2013, Super nice site for sure

Sven, Score:9.00, Date:Jan 18, 2011, I've joined a few erotic nude sites in the past few years, but this was a real eye-opener. The quality of both the media and the models really stands out. I spent nearly a month on this site going through one gorgeous babe after another, and then I tried the live webcams. Amazing! These girls are young, vibrant, and really friendly. And to top it off, they can get really naughty when you ask them to. Masturbation and toys, any angle or position you want, lesbian action with some, and I even got one girl to give me a hardcore anal show with a big thick dildo. Makes me horny just thinking about it.

TJ, Score:9.00, Date:Dec 21, 2010, Classy site with some really fine babes. The content is top-notch and the live webcams are extremely stimulating.

Manny, Score:9.00, Date:Nov 23, 2010, This site is truly amazing and presents the beauty and passion of the femal form like never before. The models are delicious and the photography is top notch, not to mention the stunning quality of the erotic movies.

NetReb, Score:9.50, Date:Nov 18, 2010, Captivating! I've never been so engrossed by a website. The babes are fresh, young, and extremely beautiful, the photography is world-class, and the erotic movies are so stimulating it feels somehow forbidden. And as a bonus treat, many of the hotties are available 24/7 on live webcams. Classy and truly seductive!

Katch, Score:9.00, Date:Oct 31, 2010, Hooottttt bitch

LST, Score:9.50, Date:Oct 21, 2010, I've tried them all and you can't beat this one for size or quality. There are some truly captivating hotties here.

Bobby, Score:9.50, Date:Oct 8, 2010, Pure heaven! Top-notch erotic beauties from around the world, first-rate photograpghy, classy movies, live cams, and live chat with fresh friendly angels. The search is over!

quizzle, Score:9.50, Date:Jul 30, 2010, Met-Art is the gold standard in softcore for me. I agree that Femjoy is getting better and better. Met-Art has gotten more explicit over the years but too many hardcore pornstars. But for the most part, the models are natural and don't have the hardened stripper look.

a12, Score:8.00, Date:Jul 21, 2010, One of the best sites in "erotic photo" niche, but I don't like very "cold" models here and prefer more "alive" ones on FEMJOY.


Enter comments and rate this site:

Please enter meaningful comments with pros and cons about the site being reviewed. We reserve the right to remove any comment we deem inappropriate or not adding any value to the review. No special characters are allowed in comments. Be careful of using scores of 0 or 10 as almost no site is totally useless or worthless or absolutely perfect.
IP is recorded for security purposes: 44.200.117.166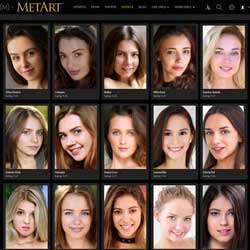 Members Area Previews





Content Quality

9.5 / 10

Content Quantity

9.5 / 10

Exclusive Content

5.0 / 5.0

Download Speed

4.3 / 5.0

Navigation

9.4 / 10

Price / Value

9.1 / 10



SAVE 50 %

$14.99 for 30 days
(Special Discount Price)

Normal price: $29.95 / 30 days
Pricing may vary depending on your location.

Latest Review Update: Jun 4, 2021