Note: This review is inactive due to the site closing or some problem with the program running the site. We recommend you look at the many other great sites we have reviewed in this category.
NDN Girls is a rare site where you get the chance to catch real native American girls filmed on their reservations in all manner of different rude content. This is a real rare chance to catch these girls, and amateurs, together under just one site.

As the site itself says, 'Indian casino girls, reservation hotties, college babes and welfare chicks' are all on this site - they don't really discriminate as long as they are native American and gorgeous. And it's up to them what type of content they get up to!
Content
This site currently contains 12 videos at this time, and there were supposed to be some photo galleries but these were unavailable at the time of this review. More on that later. In terms of the videos, these are available to download in MP4 and DivX formats at a highest resolution of 1280x720 (5500kbps), which is pretty impressive. There did not appear to be any update information on this site at this time.

Perhaps rightly calling itself the only site dedicated to native American girls around, NDN Girls is also brand new and therefore pretty difficult to judge in its early days. The only pornstar of even partial native American ancestry that I could think of was Jezebelle Bond but judging by what this site has in store, it could be that there will be a lot more joining her very soon. What we can also tell about this site is that it is absolutely not going to shy away from hardcore action, and there is some very hard action here.

The double blowjob dealt out in the kitchen by Tomasina & Danica is probably the best scene here right now and is also shot very well. But with interracial hardcore, solo masturbation and even smoking fetish covered so far, this is a site that is really on its bike. But about those photo galleries - how come when I tried to click to this I was redirected to a page parodying the infamous 'Meatspin' meme? It isn't really what I expected, even if I was slightly amused. Paying members probably won't be quite so amused though!
User Interface
The navigation so far sees a site that currently only really consists of a couple of pages. A complete list of all the updates so far is on one, but this is a large page with too much text and thumbnails that are too big.

There is also a girls index but this is quite small so far, obviously, but in addition to the problems here the blog didn't appear to be working. They do need to sort out this issue with the photo galleries pretty quickly though because people will want to see those!
Conclusion
NDN Girls is a site that certainly has promise mainly due to the fact that it is exclusively dedicated towards native American girls. If that isn't an attractive proposition then I don't know what is! But there is a LOT of work to be done here, make no mistake.

The content will sort itself out in time and what there is here is very impressive indeed so far. But the aspects of the site that need attending to, such as the absence of the photo galleries (which could be temporary), are really important. It's also too expensive for a new site.
User Score: 7.8 / 10
Pharmd300, Score:9.50, Date:Nov 10, 2011, Hello! interesting site! I really like it! Very, very good!

tomasina & Danica, Score:6.00, Date:Feb 10, 2011, your okay when your with ur own kind screwing you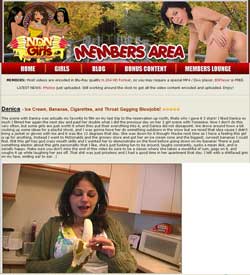 $29.95 / 30 days

Initial Review : Feb 1, 2010