Porn fans who are looking for a more interactive sexual experience might want to check out a new site called Pink Visual Games. This site affords users the opportunity to design their own women, and men, and allow them to put them in various sexual situations.

The cyber babes can be highly customized, as can the sexual situations that they are placed into. Just about any sexual scenario is possible with this game. This includes hardcore sex, oral sex, threesomes, solo masturbation, bukkake cum shots and even golden showers. Fans of true interactive porn will find that the options for their fantasies are just about endless.
Content
There are two main components of the game, designing your characters and then pressing them into play. Pink Visual Games is free to download and play, but some features require the purchase of additional coins. The free edition gives you three free models, one male and two females, and allows you to do some basic customization and game play.

The free edition allows you to customize items on your character such as eye color, and a limited choice of outfits and accessories which include stockings, shoes, ball gags, eye glasses. Additional costumes and body modifications can be attained through the purchase of coins. The free version also only contains one scene.

It also should be stated that until you purchase the Full & Hardcore option for 5,000 Coins (approximately $10.00), the genitals of the characters are censored and there is no hardcore action available. Users of the free version can still play with their characters with some light foreplay and kissing. You can also use features such as dildos, hands and fingers, although there is no real penetration until the upgrade is obtained.

It is pretty impressive how customized this game can be. Addtional locations piercings, tattoos, sex toys, rimming, anal, character languages, etc. can be added to the game with the purchase of coins. Even hairstyles and additional clothing can be purchased. Of course, this also means that the game can become quite expensive very quickly.

One last feature that I would like to talk about is the ability to do photo and film shoots with your characters. You can film your characters doing their scenes and save them to your computer, or share them with the community of gamers. The game also has a story mode which makes you work to get laid by the characters your create.
User Interface
This game is only available to PC users, so MAC users are simply out of luck. Once you download the game, it will take a few minutes to update before your ready to try it out. This game is designed to work with Windows XP, Vista and Windows 7.

Members also get an account with Game Erotica, which allows members to share content. Of course, a package has to be installed to use shared content, and many user designed features may require additional game packs to be able to be used in the game.
Conclusion
The concept behind Pink Visual Games is pretty cool. It appears that just about any sexual fantasy that you can imagine can be acted out through the game. The game also has has a cool look that is pretty realistic, including the bounciness of the character's boobs. The characters personalities are fairly realistic as well, and it is almost like interacting with a real woman.
There are only two problems that I can think of as it pertains to this site. One, a lot of people won't like to hassle with downloading the game to their computer. Two, the upgrades for the game can become pretty expensive. But considering that there is a free version with some playability, I think this game should be at least given a look.
Pricing:
$2.00 -> 1,000 Sex Coins
$5.00 -> 3,000 Sex Coins
$10.00 -> 7,000 Sex Coins
$25.00 -> 20,000 Sex Coins
$50.00 -> 50,000 Sex Coins
$90.00 -> 100,000 Sex Coins
$200.00 -> 250,000 Sex Coins
User Score: 7.5 / 10
MIKAEL, Score:7.50, Date:Dec 23, 2012, Nice and expensive


Enter comments and rate this site:
Please enter meaningful comments with pros and cons about the site else your comment will be deleted. We reserve the right to remove any comment we deem inappropriate or not adding anything useful to the review. No special characters are allowed in comments. Be careful of using scores of 0 or 10 as almost no site is totally useless or worthless or absolutely perfect.
IP is recorded for security purposes: 54.81.131.189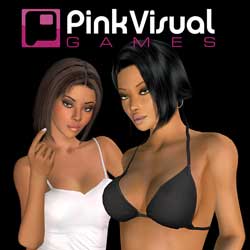 Pink Visual Games Members Area Preview

Content Quality

9.0 / 10

Content Quantity

8.0 / 10

Exclusive Content

5.0 / 05

Download Speed

4.5 / 05

Navigation

8.0 / 10

Price / Value

7.7 / 10
$0.00 / 30 days

Initial Review : Sep 14, 2012