Private is the official website of the legendary porn magazine of the same name. The company has been around since 1965, when its print version became the world's first full colour hardcore porn magazine.

The site has had a relaunch and a redesign recently, where you can now see many of Europe's biggest porn stars (and a fair few from elsewhere in the world) on a brand new site but still in glossy and occasionally high budget photo galleries and videos.
Content
This site currently hosts 6127 scenes from 1025 full length DVDs (1.5 hours long), each with movies and most with photos as well. There are 2040 models featured on the site. The images display in a range of sizes up to 1067x1600. photosets can be downloaded as Zip files too. The videos display at their best in 1080p High Definition at 1920x1080 @ 5000kbps in Flash Player and MP4 formats, and there are downloadable and streaming options with multiple quality options for both. Newer scenes are also available in Ultra 4K that display at 3840x2160 but these can only be streamed and not downloaded. Older videos display at lower resolutions.  This sites update schedule is unknown.

I'm also a huge fan of European porn stars - I just prefer their looks on the whole and the way they carry themselves an perform. So I've always been very much a fan of the Private output. Their website has been around for years, taking on the thankless task of archiving their Private mens magazines (as well as others such as Triple X and Pirate), but this is the site in its relaunched state.  They have also divided up the site into multiple niche sites, or you can view all the scenes from the whole network.

They have added tons of awesome new content such as "Chocolate Loving MILFS", "Teen Couples IV", "Cute & Tight Holes III", "Share My Wife" and many more. What I can say is that their collection is obviously impressive. The scenes in the members' area only dates back to 2000 for the main Private site and as mentioned before you can find the earlier stuff on  Private Classics, which is a separate site by the same crowd. Membership is not included with Private.

You do however get access to all of the following sites in the Private Network: Tight and Teen, I Confess Files, Anal Introductions, Blacks On Sluts, Private Milfs, Private Stars, Russian Teen Ass, Mission Ass Possible, Private Fetish, Russian Fake Agent, Sex On The Beach and Tranny Temptation.
User Interface
The navigation here was actually very good indeed. There are separate section for Scenes, Pornstars, Movies and Sites on the top navgation menu and each one can be sorted in date or most popular order. 

I was very satisfied with the video options here and I thought the index of models was also very good indeed, there is also her best scene in that directory. Update information was also very good. I also thought that the layout was very good in terms of design.
Conclusion
Private is a hard site to judge for me. I personally love the content here a LOT and technically this site is very good - and is perfectly fine compared to most out there, especially other big label sites. 

So they have built up quite a large archive of content now and the question is:  Can you get much better mainstream porn content than this? Doubtful. It is certainly worth a look on videos alone, and definitely worth the price on that basis.
Thomas, Score:5.00, Date:Sep 3, 2020, Downrated to 5. As it turned out, all the extra sites are regroupings of the very same scenes. No added value. Plus there are no 4k dosnloads anywhere, and fter page 200 on their scene overview there are pages and pages of SD 480p content. All in all, major disappointment. Do not bother.

Private Team, Score:10.00, Date:Aug 18, 2020, Hello Thomas, thank you for your comment. I would like to mention the Classics trial is optiona, there is an option to tick/untick and a confirmation email is sent when the purchase is made. All the best

Thomas, Score:7.00, Date:Aug 15, 2020, First off. They signed me up to a 2 day trial membership of PrivateClassics too and I did not get a choice. There was no box to untick. That pretty much amounts to fraud. Luckily I realized the scam in time to cancel the membership. The main site has good quality videos at 1080p. There is no 4k download option. If you like no boob European gals then you should be pleased. All the girls are pretty so similar they will melt into one after a while. Glossy productions though.


Enter comments and rate this site:

Please enter meaningful comments with pros and cons about the site being reviewed. We reserve the right to remove any comment we deem inappropriate or not adding any value to the review. No special characters are allowed in comments. Be careful of using scores of 0 or 10 as almost no site is totally useless or worthless or absolutely perfect.
IP is recorded for security purposes: 54.237.183.249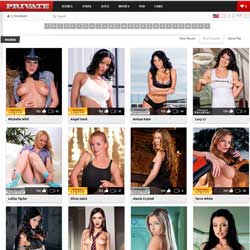 Members Area Previews





Content Quality

9.3 / 10

Content Quantity

9.3 / 10

Exclusive Content

5.0 / 5.0

Download Speed

4.1 / 5.0

Navigation

8.5 / 10

Price / Value

9.0 / 10



SAVE 30 %

$20.95 for First 30 days
(Special Discount Price)

Normal price: $29.95 / First 30 days

Latest Review Update: Mar 5, 2018