Stop: This review is inactive due to the site closing or some problem with the program running the site. We recommend you look at the many other great sites we have reviewed in this category.
Pure Anime is a mobile porn site from the Pink Visual label, and brings you a collection of hentai and animated porn videos in formats and sizes ideal for a variety of mobile devices that you may own, incuding iPod, iPhone and PSP.

This is a very rare opportunity for you to see some good quality hardcore hentai action that is totally geared for mobile viewing - there are no other sites around of this type that I can think of, so grab this opportunity quickly!
Content
This site currently contains 16 videos, all of which are accompanied by photo galleries as well. These galleries do not include ZIP downloads and image sizes vary. The videos are available in MP4 and Quicktime formats, with the best quality versions displaying at 720x400. So far there has been no update schedule established here.

I'm pretty sure that Pure Anime might be at the very least one of only a very small amount of mobile hentai sites around. But I reckon it could even be the only one - and if that is the case then this network has a potentially very major site on its hands. At the moment it is brand spanking new and therefore not exactly packed full of content as yet, plus I'm not sure what their update schedule is going to be. Judging by their other mobile sites, I would expect to see them go weekly or twice-weekly with their updates.

The content itself so far is very much in the hardcore realm, it seems. There are not necessarily any particular themes to the action outside of this, to be honest, but it was really good stuff. All of the scenes are subtitled so there are no badly dubbed scenes here, which was good to see. The videos were surprisingly clear and seemed to transfer very well, and that was even looking at them on a relatively old iPod model - so I would only presume they will look fantastic on newer models and larger mobile devices.
User Interface
The navigation on the site was excellent, I have to say. They've kept things as simple as they really need to be on most handheld devices with a specific navigation that works just great. Only one or two things are missing.

The viewing options were a little bit disappointing although you can watch full movies or clips if you wish, but maybe this is something for them to explore. Update information was very good so far and very welcome but it was difficult to know what the schedule would be from here on in.
Conclusion
Pure Anime is a great prospect of a site if it can settle into a consistent and regular update schedule, simply because there are not any other mobile hentai and anime sites out there that I can think of, certainly.

The quality of the videos that are on board already are very good indeed so I think in terms of content quality you are always going to be pretty well served here. But for the time being, just keep an eye on it and subscribe when it looks big enough.
anthony, Score:8.50, Date:Apr 15, 2013, great


Enter comments and rate this site:

Please enter meaningful comments with pros and cons about the site being reviewed. We reserve the right to remove any comment we deem inappropriate or not adding any value to the review. No special characters are allowed in comments. Be careful of using scores of 0 or 10 as almost no site is totally useless or worthless or absolutely perfect.
IP is recorded for security purposes: 18.212.239.56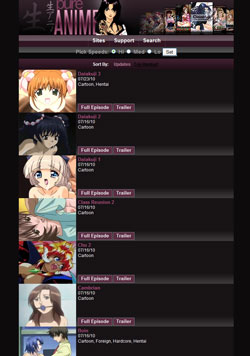 Content Quality

8.6 / 10

Content Quantity

5.4 / 10

Exclusive Content

5.0 / 5.0

Download Speed

4.1 / 5.0

Navigation

8.8 / 10

Price / Value

7.4 / 10



$19.95 / 30 days

Initial Review : Aug 3, 2010