Pure Taboo is the new gold standard for porn. Founded in late 2017, they have already earned themselves a solid reputation for being the best of the best in everything supposedly beyond-the-pale: step-family, reluctant consent, teacher-student, therapist-patient, etc—a reputation that has garnered them no less than 5 AVN and Xbiz awards in just as short a time.

While this reputation is well deserved, it is a bit too narrow, because even by standard measurements, this site's quality is head and shoulders above the average. That is to say, even if you aren't particularly into the various taboo scenarios they specialize in, the quality of their output is still just so high that you'll enjoy it anyway. This is a mark of true professionalism.
Content
There are currently 155 scenes on the site. Each scene contains both HD videos and photo galleries. Photo galleries can be downloaded as a Zip file. The movies can be streamed or downloaded in MP4 format and display at best in 1080p at 1920x1080(5000kbps). The site appears to be updated about twice every week. The technical quality of it all is top-notch as well. Each scene can be viewed in a great variety of resolutions.
"Scenes" are not just 20 to 45-minute fuck sessions, but instead an hour or longer stories. Indeed, the site itself calls them "episodes," not "scenes," and for good reason. Each and every one has a plot, build-up, and characters; not just a lame set-up, a line or two of throwaway dialogue, and a roll in the hay. The site puts in the effort to make this work as well. The performers have clearly been given acting classes, and both the costumes and the sets were bought or built by someone who actually gave a shit about what they were doing, ot just someone at K-Mart with a list in one hand and a budget in the other.
Viewers will immediately recognize a lot of porn's current A-list, such as: Adriana Chechik, Angela White, and Tommy Pistol
. But the episodes are delivered so well that stardom becomes secondary to scenario, something almost unheard of in today's infinite fields of gonzo and wastelands of giggling 23-year-old "step-moms." Said scenarios are impressively original as well.
Not only do they have the aforementioned classics (step-families, teachers, and the like) but also stuff you've never heard of, the details of which I'll leave to your own imagination, or exploration, as the case may be. Suffice it to say that the quality is absolutely top shelf in regards to just about everything you can think of: technical, acting, originality, star-power, and so on.
Included with your membership is full access to the fantastic
Adult Time
mega network
User Interface
The layout of the site is somewhere between that of a tube site and Netflix. You can search by episode/series, cast, most viewed, and most recent. If all else fails, the search functionality on the site works just fine. In a testament to how focused they are on ambiance and atmosphere, each episode has a very lengthy description as well, the prose of which is actually worth reading (i.e., it doesn't just say, "this nasty cum-guzzling slut just can't get enough of her uncle's fat meat stick!").

There are tags of course, as well. The only even mildly substantive quibble I have is that you must use Firefox or Chrome, the videos get super finicky on both Opera and Safari, but that isn't a very serious complaint given that nearly everybody is using Firefox and Chrome, in fact, I'll bet plenty of you have never even heard of Opera before just now.
Conclusion
Pure Taboo is a perverse treat. Though less than two years old, it already ranks with the longstanding greats of the industry, namely Evil and Elegant Angel. The site is well worth your time and money because it manages to both bring something new to the table and elevate nearly every current trend in the industry.

Its tag line could really be, "Like porn, but better." Every typical critique of porn holds no water when directed at this site. In fact, if it weren't for just how perverted the scenarios and the sex are, it would be the kind of porn you could show unembarrassedly to your girlfriend, promising in good faith that yes, this one does have a plot and they did hire a cinematographer. So get yourself a membership. I promise each and every reader that they won't regret it.
Enter comments and rate this site:

Please enter meaningful comments with pros and cons about the site being reviewed. We reserve the right to remove any comment we deem inappropriate or not adding any value to the review. No special characters are allowed in comments. Be careful of using scores of 0 or 10 as almost no site is totally useless or worthless or absolutely perfect.
IP is recorded for security purposes: 54.81.220.239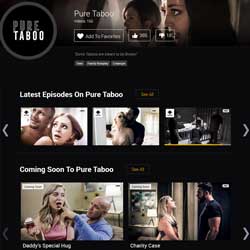 Members Area Previews





Content Quality

9.4 / 10

Content Quantity

8.0 / 10

Exclusive Content

5.0 / 5.0

Download Speed

4.1 / 5.0

Navigation

8.8 / 10

Price / Value

9.0 / 10



SAVE 50 %

$14.95 for First 30 days
(Special Discount Price)

Normal price: $29.95 / First 30 days

Initial Review : Apr 10, 2019