Ron Harris Studios
is one of two official sites from the acclaimed softcore adult photographer
Ron Harris
. This particular site mostly focuses on content shot exclusively for this website, with a plethora of softcore solo shoots and galleries and also some girl-girl galleries as well.
With over 40 years behind him as an erotic photographer, Harris knows how to take a hot photograph, and there are many to be had here – thousands, in fact – and featuring some of the world's most gorgeous glamour models and porn stars. The focus here is very much on erotic photography, and there is no hardcore pornographic content on the site.
Content
There are currently 802 photo galleries, and 625 videos on the site. All photos are usually available in two different sizes – 800x600 or 1200x800, usually. Galleries can also be downloaded in a ZIP file too, with the images featuring in the larger size. Some sets do come with a third browsing size option though. The videos are available in MP4 and Flash formats. These display at their highest in 1080p HD at 1920x1080 @ 8.00Mbps, The HD movies are excellent. Galleries are added at least three times a week.
RonHarris.com is another fabulous showcase of why Harris is perhaps the most highly respected erotic photographers on the planet. Indeed, his abilities have often brought him mainstream media attention, and he's won literally dozens of awards for his work. The main strength though, aside from the obvious talents of the man behind the camera, is that it delves into the realms of many fetishes regularly and throws up some tremendous content from each category.
The quite rarely seen smoking fetish is delved into here, for instance, as are the various foot and leg fetishes. My favourite from this latter fetish is a quite gorgeous gallery featuring Guinevere where she is naked but for a pair of sexy black boots. There is also a decent look at pissing and watersports too. It all shows that Harris is a highly adaptable and experimental photographer and as a result, his site follows suit.
On this particular site, Harris chooses to stick to a select band of models – around 40 of them – to focus his attentions on. They're an absolutely luminous bunch as you might expect as well, with reasonably famous names such as Sandra Shine and Jesse Capalli featuring in great depth. I've seen quite a lot of the former model's stuff, and I can say without hesitation that this is the best collection of photos that I've ever seen from her. Harris's biggest talent is bringing the very best out of beautiful women.
This fabulous site also throws in access to 3 additional sites as a bonus including an archive of past work Harris Archives, Kara Duhe and Aerobicise!
User Interface
The site is not really as well presented as it should be. The updates have decent thumbnails and descriptions but they are a long long list per page over several pages. There is an option to browse the content by the names of the models however.
Whilst this all might be disappointing, the browsing options are good and the presentation of each gallery is very good indeed, whilst the video download speeds are very impressive too.
Conclusion
Ron Harris is a tremendous collection of erotic photography that ranks right up there with some of Harris's very best photography. The videos are absolutely excellent in particular. We are currently unclear of the update schedule however.
Don't forget to look at our review of the fantastic Harris Archives (now called Harris Art) which you get as a bonus site.
jawaid, Score:10.00, Date:Feb 20, 2011, good luck

putti, Score:9.00, Date:Feb 10, 2011, too hot

edward, Score:8.00, Date:Jan 31, 2011, good luck

gajji, Score:10.00, Date:Jan 30, 2011, veery hoot

jhon c, Score:9.00, Date:Sep 22, 2010, son unas linduras

kishor, Score:10.00, Date:Jun 3, 2010, what a lovely figure

rjjhnstn, Score:3.00, Date:Jun 1, 2010, Agree with rickyroo. Models are all flat-chested fashion models with pretty faces but no body. High def photos with impeccable lighting, but very stiff posing-- not an erect nipple to be found; heavy touch-ups; the exact same poses with every model. A waste of money.

ahoht, Score:9.50, Date:Apr 16, 2010, Good

rickyroo, Score:1.50, Date:Dec 17, 2009, Trust me...This site is a waste of your money. The images are stiff an un-sexy. The video is repetitive and Harris won't shut up. There is way too much backstage stuff and the models are plastic. I am assuming that whom ever wrote all of these good comments works for Harris as they are completely un-true and all have a similar problem with the english language. That Harris is this desperate and this dishonest is all you need to know. Go elsewhere.

srichandtikamdas@ymail.com, Score:9.50, Date:Dec 7, 2009, exelent& erotic


Enter comments and rate this site:

Please enter meaningful comments with pros and cons about the site being reviewed. We reserve the right to remove any comment we deem inappropriate or not adding any value to the review. No special characters are allowed in comments. Be careful of using scores of 0 or 10 as almost no site is totally useless or worthless or absolutely perfect.
IP is recorded for security purposes: 54.226.64.30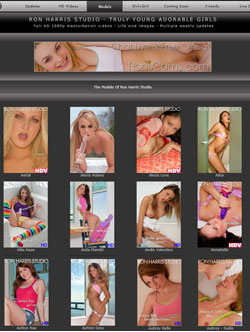 Members Area Previews





Content Quality

9.2 / 10

Content Quantity

8.9 / 10

Exclusive Content

5.0 / 5.0

Download Speed

4.1 / 5.0

Navigation

8.1 / 10

Price / Value

8.1 / 10



$34.99 / 30 days

Latest Review Update: Aug 14, 2018