Russian Sex Bombs is a site that not only offers you the chance to meet and chat with some of the hottest Russian and Ukrainian girls around, but lets you see their sexy photos as well!

This multi-purpose site will fit your needs whatever they happen to be – from just wanting to look at a few sexy photos to even looking for a Russian girl to be your wife, perhaps.
Content
This site currently has around 4800 models or 'escorts' for you to view, all of whom have a few photos to their name, but there are no videos here. Updates are dependent on the models themselves.

Russian Sex Bombs certainly wasn't really what I was expecting. I think I was expecting a straightforward modelling site but that's not the way it turns out.

I think it's supposed to be an escort site first and foremost, with each of the models displaying phone numbers or email to contact them through, and each of them having a very small photo gallery each for you to check out what they have to offer. Which all sounds plausible.

But they're Russian, and the geographer in me states that most people looking at this site won't be based in Russia, nor will they be able to get there easily. Which does lead me to question the point of the site a little bit.
They must be doing okay though to have all these models on board. However, whilst loads of the girls are beautiful, they look like professional models to me and there aren't enough photos to interest those who can't take advantage of the escorting side of things.
User Interface
The navigation was fine here, really, with the layout in particular being very good indeed and looking very professional.

A nice section is kept to one side for the newest models, and you can browse the models based on their age range as well.

However, these indexes are organised oddly – they're not done chronologically, I don't think, so I'm not sure what the basis is here. Nonetheless, it's all pretty easy to use at the end of the day.
Conclusion
Russian Sex Bombs is a strange site, really. If you are lucky enough to be able to afford regular Aeroflots over to Moscow and so on, then it's probably what you've been looking for.

But the 99% of you that can't do that will be looking for the modelling and photo side to be very prominent. However, with only about 6 photos each on the whole, it doesn't really pull this off. Maybe it's just me, but I didn't really get it. Gorgeous models though.
User Score: 9.6 / 10
Mikhael, Score:9.50, Date:Feb 10, 2013, I have used the advanced search and easily found lot of nice girls tailored to my choice!

Will, Score:10.00, Date:Apr 10, 2011, If some sends you money to look at girls, and if enough do it from around the world you can make money even if no one goes there. I guess its a bit like pay T.V You pay for the content....

John, Score:10.00, Date:May 15, 2010, Real girls!!

kevin , Score:9.00, Date:May 11, 2009, very niceeeeeeeee!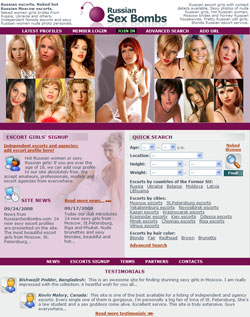 Russian Sex Bombs Members Area Preview

| | |
| --- | --- |
| | Russian Sex Bombs not yet rated |
$6.95 / 3 day trial

Initial Review : Oct 26, 2011