Caution: This review may be out of date
Note: This review is inactive due to the site closing or some problem with the program running the site. We recommend you look at the many other great sites we have reviewed in this category.
Sandy Summers is the official website of this talented blonde amateur performer, focusing on her sexy solo masturbation scenes and naughty girl-girl shoots and videos.

She's a Brazilian bombshell as well, and unusually that makes her a naturally blonde Latina as a result. Sun-kissed and blessed with beauty, you should warm to her immediately!
Content
SandySummers.com currently offers up around 380 photo galleries and around about 180 videos. Most photos display at around 800x1200. Meanwhile the videos are usually available in WMV format, displaying at around 1280x720 (1000kbps). Updates are made 4 or 5 times per week.

I think when you have a site as large and well-established as SandySummers is, you do wonder just how she can still be classed as an 'amateur'!

Indeed, this puts the majority of 'professional' solo sites to shame, not just with its volume of content, but just with the general quality of the site. It's also nice to see a site from a Brazilian performer that doesn't have the usual Latina stuff pasted all over it. It just lets the girl be as natural as she wants.

The site itself goes along pretty merrily and successfully without having to resort to different gimmicks and tricks all the time, instead focusing on how pretty and sexy its main star looks regardless of what she's doing.

She isn't afraid to get too kinky if the mood takes her by having herself chained up, and sometimes she doesn't mind looking a little bit silly as well as is evidenced when she dons a snorkel! The candids gallery and girl-girl action is superb as well.
User Interface
This site is very well presented indeed with indexes and sections for just about everything, including videos, photo galleries, the webcam, wallpapers, guest galleries and a lot more.

You also get some nice high definition browsing options on the videos and photo galleries, although download speeds were a struggle at times. You get loads of update information and lots of great biographical information about the girl herself.
Conclusion
Sandy Summers is an absolutely superb solo site that has grown quite amazingly in the year and a bit that it has been online, surely establishing her as one of the best solo site talents around.

She doesn't harm herself at all by sticking strictly to solo and lesbian action for the whole of her site as she manages to find subtle changes on her galleries and videos. It's great stuff.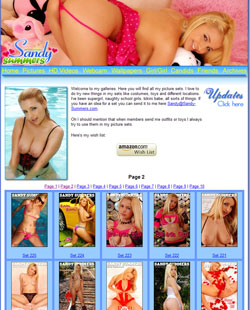 | | |
| --- | --- |
| | Sandy Summers not yet rated |
$29.95 / 30 days

Initial Review : Jul 28, 2008


Picture gallery of Sandy in sexy lingerie