If you've grown somewhat tired of porn not being interactive enough for your tastes, then you might want to try out an adult web cam. Or more specifically, a live cam that's called Slut Roulette. With a name like that, you almost feel like you're guaranteed a hot sexual experience.

On this site, members can browse a plethora of hot models in a variety of different categories. And you can interact with these horny babes with your free membership—and if you want to get real nasty with them, you can always upgrade to a premium account for the real showstopping action.
Content
SlutRoulette is a live cam site that I've seen around for quite some time but have never got the chance to review it...until now. So I was pretty excited to look under the hood and see what this site has going for it. I was also pretty excited to give some of the girls a test drive.

I signed up for the Free account and logged into the site. The first thing that I noticed is this site had a pretty large selection of girls and many of them were logged in. I logged into the site aroun 1 p.m on a Friday afternoon and there were about 1,564 girls available to chat with.

I also noticed that there are a real assortment of babes who can be interacted with. There are babes with big tits, coeds, black chicks, Asian girls, lesbians, grannies, hairy pussies, girls who do foot fetish stuff and transgirls.

Of course, there are limits to what you can do with a free account. Which means that you can basically talk to them. Some of the prices for seeing the dirty shows were different between the girls. For instance, one model gave a "Gold" session for 7 minutes and the cost was $5 USD. Another girl, however, gave a Gold session for 6 minutes and it cost $25 USD. So I guess it pays to shop around.

There are some things you can do with a Free account, but to do them you'll need a Premium account. This type of account access gives you access to HD cams, access Pornstar and Amateur cams and rate the model performance.
User Interface
The member's interface is as simple as you would want it to be. You can categorize the girls according to niche (big boobs, medium tits, etc.), by chat language (English, French, Spanish, Dutch, etc.) or by region (North America, Asia, Africa, etc.). So it's easy to find what you're looking for.

You can also sort the cams by High definition or high quality cams, audio, phone and those who give Gold chats or Party Cam chat. Which gives you quite a lot of control over who you see in your listings, which is important to have when checking out a cam site.
Conclusion
Overall, I think that Slut Roulette is a pretty decent live cam site. The chat windows are fairly large size, are high quality and feature some pretty hot babes on them. While it will cost you to see some real action, it's fairly inexpensive as compared to other sites that offer the same type of interactive entertainment.

It might just be the perfect site for those of you who are tired of static porn movies that do not give you any sort of personal interaction. If that's the type of action you're looking for, then this site might just have what you need, as long as you join with realistic expectations.
Enter comments and rate this site:

Please enter meaningful comments with pros and cons about the site being reviewed. We reserve the right to remove any comment we deem inappropriate or not adding any value to the review. No special characters are allowed in comments. Be careful of using scores of 0 or 10 as almost no site is totally useless or worthless or absolutely perfect.
IP is recorded for security purposes: 44.200.117.166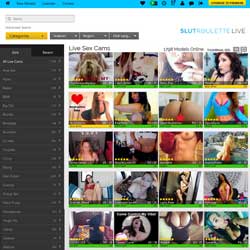 Members Area Previews





Content Quality

8.9 / 10

Content Quantity

8.6 / 10

Exclusive Content

5.0 / 5.0

Download Speed

4.2 / 5.0

Navigation

8.6 / 10

Price / Value

8.1 / 10



$3.99 / For Private

Initial Review : Jul 22, 2017