Subspace Land is a site that finds the most beautiful models around – and makes them submit! These babes have never experienced anything quite like they are put through on this website!
Bound, gagged, humiliated, tied up, abused and subjected to all manner of torment filled shoots, these babes will have a hell of a lot more respect for authority once this site is finished with them, that's for sure!
Content
This site currently features 205 updates, all featuring videos and photo galleries, with most photos displaying at a best resolution of 3888x2592. There are ZIP file downloads available with all these image galleries. The videos were available in WMV, MP4 and Flash Player formats, with streaming and downloading options, and usually played at a best high definition resolution of 1280x720. There are no DRM restrictions on the content on this site. There was no update information provided with this site at all.
I'll start off by saying that what they are trying to do with Subspace Land is VERY hard indeed to pull off. Combining European nude art styles with a pretty harder edged bondage and fetish content has been attempted before but rarely been successful, mainly because the site in question usually does one or the other very well, but never manage to cover both bases successfully. This site, however, comes about as close as I have seen any site get.
The problem is that this kind of content naturally takes away a lot of the innocence and gentle good looks that these models trade off, so the nude art element is lost somewhat. That does happen here also but only after a pretty long while in each of the sets and galleries. Otherwise this really is a quite excellent site and although it clearly succeeds a lot more when it comes to the more kinky aspects of the content, that does at the very least make it an excellent fetish site.
User Interface
This was a well presented site on some fronts but not so much on others. The update information, for instance, was perhaps the main disappointment as there really isn't all that much of it to speak of as the content is not dated.  There are 3 dropdown menus to select either from Movies, Models or Tags to choose the content you would liek to view
Despite that, the design of the site was very good indeed and matched the genre of the site while the scene and gallery descriptions were good. The viewing options for the videos were also very good. The models could have been talked up and introduced in more depth, though.
Conclusion
There is no doubt that the main problem with Subspace Land is nothing to do with the quality of the content, the ability of the models to work in the BDSM genre, or the amount of scenes and galleries that you get.
At this price, it could be the best content every created but it still works out on the exchange rate market as quite expensive indeed for a single site. BDSM fans, however, may well think it's well worth it – and I would agree. Just.
User Score: 5.3 / 10
admin, Score:9.00, Date:May 20, 2015, There are still downloadable movies available, they just currently a little hard to find, if you go into an update and choose Archive you will see the download options

burnuk, Score:4.00, Date:May 16, 2015, Despite the assurance of the contrary no downloadpossibilities

Dommy, Score:3.00, Date:Feb 4, 2015, Lame irritating cumshots. They ruin the beautifull models and beautifull camera work. Always the same man, poorly dressed. Hire an actor sometimes!


Enter comments and rate this site:
Please enter meaningful comments with pros and cons about the site else your comment will be deleted. We reserve the right to remove any comment we deem inappropriate or not adding anything useful to the review. No special characters are allowed in comments. Be careful of using scores of 0 or 10 as almost no site is totally useless or worthless or absolutely perfect.
IP is recorded for security purposes: 54.225.16.10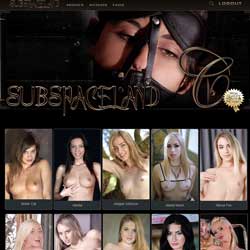 SubspaceLand Members Area Preview

Content Quality

9.0 / 10

Content Quantity

7.9 / 10

Exclusive Content

5.0 / 05

Download Speed

3.6 / 05

Navigation

8.1 / 10

Price / Value

7.2 / 10
$31.65 / 39 days

Initial Review : May 10, 2014