Welcome to
Sunny Leone
- the home of the
Penthouse Pet Of The Year 2003
! Sunny is a beautiful dark-haired adult model, who over the last several years has made herself into one of the most popular and famous adult models in the business. She has starred in many acclaimed girl-girl movies too.
This is her official site, but she not only parades many of her very sexiest lesbian movies as well as her award-winning photo shoots here. She also offers up a wide selection of photo galleries featuring fellow adult stars, as well as showcasing a bunch of her shoots when she was an amateur!
Content
There are currently 604 photo galleries, as well as 335 videos to view. The photos vary in size all the way through, but are generally no smaller than 800x1200 pixels. The videos are available in Flash, MP4 and WMV  formats to be streamed or downloaded and displaying at best in 1080p High Definition at 1920x1080(6798kbps). Content is not dated so we do not think this site is updating any more.
Unlike many solo official sites that belong to the bigger adult stars, this one doesn't fob you off with loads of galleries of other stars and not nearly enough of the hostess. There's plenty of Sunny here to go around, but there are plenty of contributions from her 'girlfriends'. I was particularly delighted to see Aimee Sweet and Aria Giovanni popping in on quite a few occasions. Sunny is the main focus here, as she should be, and there is some really Marvell stuff on view here.
The videos in particular are completely excellent. They are mostly solo posing or stripping ones, but the variation she manages in locations, outfits and performances really make the videos consistently excellent. It really is amazing the variety she has achieved, going from leather clad dominatrix one second to a quiet strip by a lake the next. She is proof that you should never really run out of ideas as a solo performer, and she is always finding ways to be sexier or inventive.
The photo galleries are similarly varied and great in their execution, and Sunny seems to have hooked up with some top quality photographers. Her best qualities are her sultry photo shoots where she really looks to melt everything around her – something she manages thanks to her exotic and dusky features. There is also hardcore content on the site now that she has ventured into the boy girl adult arena, that she only performed with her fiance at the time Matt Erickson. .
The amateur galleries are a nice touch too and allow you to see how Sunny looked a few years ago. There's no doubt she looks even better these days, but young Sunny was extremely sexy too! The site also has more than its fair share of bonus sites included with your membership.
The bonus sites from Openlife network of which her site is a member include Abbey Brooks, Lane Sisters, Hanna Hilton, Ashley Fires, Cassandra Calogera plus several more
User Interface
The site is very well presented with a couple of extra touches which were great too. There are separate sections for Videos, Photos , Her Biography and Her Friends sections.  Video viewing and downloading options were excellent with numerous options. Download speeds were very quick.

Updates are very regular and very well promoted. Photos can be seen in the viewer only now and can be saved or downloaded, but there were no Zip file downloads
Conclusion
My worries are put to rest about Sunny Leone – it was just as great, as a site dedicated to this goddess, should be. A fabulous (and large) selection of content waits on a site that should be the benchmark that all other solo sites should follow. And I think it has room to get better. Downloadable videos would be great too as I am not a fan of the streaming only option.

Sunny Leone herself completely justifies her 2003 award too, and is seemingly getting better and better as a performer as well as still enjoying herself immensely it seems. She was a truly great adult performer who was rightly at the head of her field. Oh, and she's darned pretty to boot. This is a truly a splendid site.
liberty, Score:8.00, Date:Dec 16, 2012, My worries are put to rest about Sunny Leone – it was just as great, as a site dedicated to this goddess, should be. A fabulous (and large) selection of content waits on a site that should be the benchmark that all other solo sites should follow. And I think it has room to get better. Downloadable videos would be great too as I am not a fan of the streaming only option. Sunny Leone herself completely justifies her 2003 award too, and is seemingly getting better and better as a performer as well as still enjoying herself immensely it seems. She is a truly great adult performer who is rightly at the head of her field. Oh, and she's darned pretty to boot. This is a truly splendid site.

faraz, Score:9.50, Date:Jan 26, 2012, What a stunning girl this

pankaj, Score:10.00, Date:Dec 3, 2011, very nice figure

sany, Score:10.00, Date:Aug 5, 2011, I want to see in nude.

Bobby, Score:10.00, Date:Jan 18, 2011, Love you Sunny

Dreamer, Score:10.00, Date:Dec 27, 2009, Hey sexy

beliksaz, Score:10.00, Date:Jul 20, 2009, hi


Enter comments and rate this site:

Please enter meaningful comments with pros and cons about the site being reviewed. We reserve the right to remove any comment we deem inappropriate or not adding any value to the review. No special characters are allowed in comments. Be careful of using scores of 0 or 10 as almost no site is totally useless or worthless or absolutely perfect.
IP is recorded for security purposes: 34.230.84.215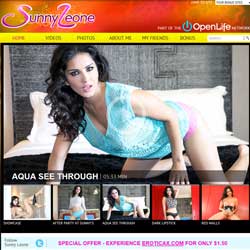 Members Area Previews





Content Quality

9.2 / 10

Content Quantity

8.4 / 10

Exclusive Content

4.5 / 5.0

Download Speed

4.0 / 5.0

Navigation

8.3 / 10

Price / Value

8.8 / 10



SAVE 50 %

$14.95 for First 30 days
(Special Discount Price)

Normal price: $29.95 / First 30 days

Latest Review Update: Jan 25, 2018