Caution: This review may be out of date
ToonHandjobs is a comedic look at the handjob genre as seen through the eyes of a graphic artist from Spain, making this the world's first and only animated handjob site!

This isn't really hentai or anime as the style is far different from the Japanese movies – there is far more of an emphasis on humour here than of those other sites!
Content
ToonHandjobs currently features around 40 complete videos, but no photo galleries to speak of. The videos all seem to be in WMV format only, offering 640x480 (1400kbps) as the best quality videos that I found. Updates are made approximately weekly.

ToonHandjobs is a site of a couple of innovations. Firstly, you don't get all that many sites that have animated content from anywhere other than Japan, and secondly I've certainly never seen an animated site before that focuses exclusively on handjob content – it's certainly unique!

It's also good to see the talents of one animator being championed on this site, although it does seem very weird that we never get to find who he is!

It's actually difficult to know who exactly the site may cater for. Handjob fans may object to the style of the content and also to the large wedge of humour that is on offer here.

Also, fans of adult animation might not also take to the amount of humour. Basically, this is really one for those of you who are looking for something quite a lot different from that which you normally get as well as handjob fans looking for a departure too.
User Interface
Although the content on ToonHandjobs undoubtedly shines, the presentation here isn't quite as great. The index pages themselves are fairly unspectacular but do at least offer enough information about the actual videos.

The layout doesn't look particularly appealing though. Also, you click on a video and it takes you straight to it rather than some browsing options. The lack of much update information and general other information rounds things out unfortunately.
Conclusion
ToonHandjobs is certainly an interesting experience – extremely well animated and also very original indeed and with a style that should be unique to just about everyone.

Although a specific audience might be difficult for the site to find, it's always nice to see something completely different, and it's also extremely kindly priced as well!

ToonHandjobs has the following subscription fees:-

$3.95 (3 days, recurring at $13.95 monthly) $14.95 (1 month, recurring at $12.95 monthly)
$16.95 (1 month, non-recurring)
Enter comments and rate this site:

Please enter meaningful comments with pros and cons about the site being reviewed. We reserve the right to remove any comment we deem inappropriate or not adding any value to the review. No special characters are allowed in comments. Be careful of using scores of 0 or 10 as almost no site is totally useless or worthless or absolutely perfect.
IP is recorded for security purposes: 54.92.148.165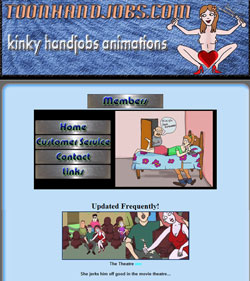 Members Area Previews





Content Quality

8.6 / 10

Content Quantity

6.2 / 10

Exclusive Content

5.0 / 5.0

Download Speed

3.9 / 5.0

Navigation

7.5 / 10

Price / Value

8.4 / 10



$14.95 / 30 days

Initial Review : Jul 25, 2008