Twistys is the number one ranked babe site online – and with over 4000 different models, many thousands of videos and over 2 million individual images, it's also one of the biggest adult sites online.

This extraordinary site has been running for almost 15 years now and it has established a fantastic reputation for bringing you a truly international blend of beautiful women that no other site can match.
Content
Twistys currently contains over 3,106,300 images, as well as 8043 videos. You can view the complete video all in one or else videos are also split into separate clips for your convenience. The images here mostly display at around 1999x3000 in size, with slideshows and ZIP downloads also available. The videos are available to download or stream in Flash or MP4 formats, in low med or high quality with the best displaying in wonderful 1080p High Definition displaying at 1920x1080 (10000kbps). In terms of updates, there are 4 new photo galleries added per day, and one video as well.
Important Note: Downloads now cost extra and you have to get VIP membership to be able to download movies.

The fact that they keep up with all these updates featuring such an amazing array of big name talent is pretty impressive. You may  have seen of this content before as some of it is non exclusive but a lot of it is exclusive. Twistys impact and success has been remarkable, created by a constant stream of wonderful content and prolific updating.

And they are right when they say they are a truly international brand, covering girls from all over the globe, and content from all manner of different genres. The focus though is ALWAYS on the quality and the beauty of the girls. Twistys is a fantastic site, it really is. You only have to look at their Top 25 girls to see what you have on offer here. American stars like Kayden Kross to Europeans such as Sophie Moone and back again fight to be ranked at the top of their prestigious list, and all the meanwhile the site constantly adds new content from across many different genres. There really isn't that much that you can fault about this site.
Included with your membership is full access to Twistys Hard, When Girls Play and Mom Knows Best.
User Interface
The navigation here had to be very careful to be spot on because there is so much content that one misstep could have made this a very awkward site to navigate. They get it just about right. The ranking system has become very important and actually really prestigious within the industry, allowing you to find the best and most popular models very quickly indeed. The update information also had to be spot on because there are so many updates, and it is.

The videos are now available in 720p high definition, but the the download speeds were still very good and the chopping up of videos into smaller parts really helps those with slower connections. The site bases its navigation around the models rather than the action, and therefore it all hangs together pretty well in the end. There is also an excellent power search that allows you to search for content based on a multitude of criteria that you can select.
Conclusion
This was not the first time I'd had the privilege of visiting this site and I certainly got exactly what I expected and more – absolutely tonnes of models and some of the best content they have ever starred in.

Twistys is now so large that it doesn't really matter that some of the content is non-exclusive because you won't have seen most of it anyway. It's big, it's brilliant, and you can't beat it. The only negative is that you now have to pay a bit extra to be able to download movies.
Tom, Score:6.00, Date:Jan 1, 2018, Just my personal opinion. I didn't do a full review of the site, but will tell about the experience I had in the last 3 weeks: I was a member in 2015 and the site was really great. I joint in Dec 2017 again to check all the new content. What a disappointment! The site is now part of some network and it seems, that the new goal is profit, profit, profit. Standard membership is streaming only, no download. Downloading cost you 10€ extra (VIP membership). The old content I have checked (Streaming only) has been reduced in quality from 10k bit to 1k bit and this make s the videos low quality, even when it is still 1080p. New content (newer than April 2015) is mostly streamed in 1080p, but still there are quite some videos only streamed in 720p. I liked the site for it's masturbation content, but now it is mostly lesbian and boy-girl scenes. Most new masturbations scenes have a minor video quality. Either the videos are 1080p, but have a bit-rate of less than 2.5k or they are even reduced to 720p with a bit-rate of less than 2k. All in all, the site no longer is first grade site - more a third rate site. Regards, Tom

Admin, Score:9.00, Date:Jan 17, 2013, The Search facility is fixed and working. Several people have tested this from different locations and all reported that it is working again.

Jay, Score:6.00, Date:Jan 16, 2013, Search feature is broken, they have no idea when it will be fixed. Site is much less useful without it (you can't search for your favourite things).

StockingLvr, Score:9.50, Date:Mar 13, 2011, Great site! Lots of lovely ladies, and several updates daily.


Enter comments and rate this site:

Please enter meaningful comments with pros and cons about the site being reviewed. We reserve the right to remove any comment we deem inappropriate or not adding any value to the review. No special characters are allowed in comments. Be careful of using scores of 0 or 10 as almost no site is totally useless or worthless or absolutely perfect.
IP is recorded for security purposes: 54.237.183.249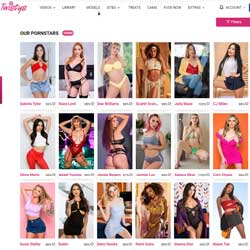 Members Area Previews





Content Quality

9.2 / 10

Content Quantity

9.0 / 10

Exclusive Content

4.0 / 5.0

Download Speed

4.3 / 5.0

Navigation

8.4 / 10

Price / Value

9.0 / 10



SAVE 40 %

$17.99 for 30 days
(Special Discount Price)

Normal price: $29.95 / 30 days

Latest Review Update: Sep 29, 2016