Veg Porn is a site that advertises itself as the first and only adult site that features a complete cast of vegetarians and vegans. This alternative erotica and porn site is one that embraces the culture of herbivores everywhere.

By their own admission, they don't update all that often but they have been kind enough to price the site really low for you, which is nice of them! This site is one that recommends that you eat pussy and not pork - sounds like a good deal to me!
Content
This site currently features 33 photo galleries but no videos. Photo galleries are not available for ZIP file download and most single photos are sized at 768x1024. The site isn't usually updated but you may catch the occasional update every few months.

Of course, normally you wouldn't be too impressed by the fact that Veg Porn is so small and rarely updates, but this site is very much the exception to the rule. Their honesty in admitting they do not often update coupled with their decision to make their site one of the cheapest you will find means that this site is actually quite admirable in their approach. And although I, as you may will be, am not a vegetarian, I always love seeing alternative porn and something a bit different.

These 'titilating tofu eaters' aren't just all ladies either - this is a site that also gives something to the ladies. There are a few male models here as well as the expected female ones, which certainly gives this site a different side nobody perhaps would have expected. The galleries are really well shot, I have to say, playing nicely with the theme of the site but also throwing in the occasional bit of mild fetish action as well. It's a nice and much welcomed alternative.
User Interface
The navigation on the site was on the whole extremely good. Everything was great with lots of information available about every photo gallery as well as informative great update information.

The design on this site is very good and very much in keeping with the tone of it all as well. It was also good to see that their free tour and area was so informative as well, especially as it comes to telling you about the site's current status.
Conclusion
The makers of Veg Porn deserve an instant amount of credit for being so honest about their site and for making it so well priced. Of course, we would all like to see more content but at least their guys are completely honest about their approach and site.

For $5 this is well worth it for at least a month. There are some excellent photo galleries here and if you are very much into the alternative scenes then you will find some stuff to keep you interested here - especially if you have been waiting for some veggie porn!

Subscription fees:-

$5.00 (monthly, recurring)
$50.00 (12 months, non-recurring)
Enter comments and rate this site:

Please enter meaningful comments with pros and cons about the site being reviewed. We reserve the right to remove any comment we deem inappropriate or not adding any value to the review. No special characters are allowed in comments. Be careful of using scores of 0 or 10 as almost no site is totally useless or worthless or absolutely perfect.
IP is recorded for security purposes: 100.26.182.28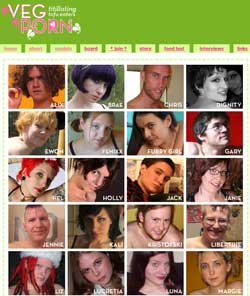 Members Area Previews





Content Quality

8.5 / 10

Content Quantity

6.0 / 10

Exclusive Content

5.0 / 5.0

Download Speed

4.5 / 5.0

Navigation

8.0 / 10

Price / Value

8.1 / 10



$5.00 / 30 days

Initial Review : Mar 4, 2010