Do you wish that your porn was a little bit more real? If you do, then you might want to check out a virtual reality porn site called VR Hush. That's because this site provides an experience so real and immersive that you'll feel like you're part of the action.

Members of this site are able to enjoy high-definition 3D videos with a 360-degree range of motion that will make you feel like you're in the room as the XXX fucking unfolds before you. It's an experience that you won't soon forget as you watch lovely ladies sucking and fucking right in front of you.
Content
The videos on VR Hush can be viewed using a variety of different devices which include: Samsung Gear VR, Oculus Rift, HTC Vive, PlayStation VR or using your smartphone with a Google Cardboard. I reviewed this site using my smartphone and a Cardboard.

At the time of this review, this site had 31 videos available. The videos can be streamed using their own player or downloaded in a format to use on one of your devices. Resolution will vary depending on device but can go up to about 3840x2160 @ 16,000 Kbps. Episodes also come with picture galleries which can be downloaded in a zip file that contain about 125 pictures each. Max. resolution of the pics are 1600x1067 pixels. The site is updated twice a week

This site has a number of beautiful porn stars on it including Alice Lighthouse, Shy Love, Aubrey Gold, Abella Danger and even Nina Hartley. Except for Luna Star, it's a pretty white bread collection of pornstars but they are still sexy nonetheless.

The action in these videos are pretty fucking hot and are not only filmed in 360-degree, 3D and HD action, but are also filmed from a POV perspective, mostly from the guy's point-of-view but there are videos from the girl's point of view. Which is pretty innovative and not something I've seen before.

As you can expect from any porn video, there is plenty of finger banging, pussy and ass fucking and oral sex of all varieties. Of course, it's a lot hotter when it's done to such high standards.
User Interface
This site has a very modern feeling interface. I like how all of the content for the various devices can be found easily and how you can stream the videos on your computer if you don't have a VR device (although, through the virtual reality device the quality is much better).

I also liked the fact that this site had a model's page that gave good biographical information on the girls who perform there. I also like how the video's have long descriptions, too. It's obvious that a lot of care is put into the site.
Conclusion
At the moment, there aren't a whole lot of videos on this site, but the site will grow quite quickly with their update schedule. However, I will say that the content they do have is super high quality and very immersive. It's also a lot of fun and some of the videos are pretty damn innovative.

Despite the video count, I think that VR Hush is a great site that is putting a lot of care and attention into their porn. If you're looking for a great hardcore porn experience, you can do a lot worse than this site. And once they add a few more movies to the mix, they'll have something really good.
*** Please note: Be careful of pre checked or pre-selected cross sales on the join page. Make sure you uncheck or de-select those options, unless you want these extras, as you will be charged extra for them.
Kenny, Score:9.00, Date:Jun 6, 2018, Hi Mr. Albertson, It is important pay attention when joining any website. The price and duration of the membership is clearly shown on both the prejoin and credit card gateway page, you obviously did not pay attention to the join options when signing up, mistakes happen. For the addition bonus site, as our customer service agent mentioned to you when you reached out, you were not charged, it was your bank that held the funds as a pending transaction. You cancelled on time and there was never a charge for the bonus site. Our company has been managing adult paysites since 1999 and we run a very clean business. Please contact our customer service agent again and he will instruct you how to rejoin for a monthly option and refund the annual membership that you mistakenly chose. Thanks Kenny

Balbertson, Score:1.00, Date:Jun 1, 2018, Be careful. Tried to sign up for a month and they charged me for a year. They claim they are unable to adjust or refund the charge. They also signed me up and charged me additional sites that I was unaware of until I was charged.

Mpri, Score:10.00, Date:May 31, 2017, On of the best experience i had with porn. I have Gear Vr for S7 and just got a video from this from a friend and afte that i just had to join and check all the videos. They still are at the begining as they have only 15 scenes (some of them are double , POV and normal view thats why the review says 30) and one lesbian scene. But they have 1 new scene every week as it seems and the quility is suberb, its like you are there and if you combine it with a sex toy ....just amazing.


Enter comments and rate this site:
Please enter meaningful comments with pros and cons about the site else your comment will be deleted. We reserve the right to remove any comment we deem inappropriate or not adding anything useful to the review. No special characters are allowed in comments. Be careful of using scores of 0 or 10 as almost no site is totally useless or worthless or absolutely perfect.
IP is recorded for security purposes: 54.80.198.173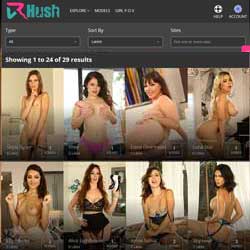 VR Hush Members Area Preview


Content Quality

9.6 / 10

Content Quantity

5.5 / 10

Exclusive Content

5.0 / 05

Download Speed

4.3 / 05

Navigation

9.1 / 10

Price / Value

8.0 / 10
SAVE 29 %

$17.45 for 30 days
(Special Discount Price)
Normal price: $24.45 / 30 days

Initial Review : Feb 24, 2017