Wank It Now is a site that sees a steady succession of hot British models, porn stars and amateurs putting on a sexy stripping performance whilst whispering sweet nothings to you through the camera!

This masturbation encouragement site sees these girls having to test out their vocal skills as well as their bodies as they tease you with their words and torment you with your bodies - and they won't stop until you shoot your load!
Content
This site currently features 3931 videos and 1816 photo galleries. You will find that the highest quality images on this site will be sized at 5000x3333 - pretty awesome! The videos are available in MP4 and Flash Player formats for streaming or downloading, with the best quality downloads displaying at 1920x1080(6163kbps). Many of the movies now also display in Ultra 4K high definition that display at 3840 x 2160(16,500 Kbps). The site is currently updating every single day.

That update schedule really did take me quite by surprise! I thought for a moment that I was actually imagining it but no, it really does seem as though Wank It Now is producing updates at this rate. But did it have the content to back it up? Well, you can see yourselves that they definitely have high definition content on their side, which is a fantastic start, because it does help to make the content a whole lot more realistic and indeed persuasive. It's a great start.

The photo galleries may not seem to play their part but they are great companion pieces to the videos. Now this isn't a hand job site as the girls perform on their own and unfortunately the technology hasn't yet been invented where they can reach into the screen and do it for you. This isn't Videodrome unfortunately! The performances are very convincing indeed, I have to say, and appearances by top British models like Cate Harrington and Katie K will certainly help you along!
User Interface
The navigation here is pretty decent and has improved since our last review. There are separate sections for latest Updates, Videos, Photos and Profiles(which are models). You do get is a really good set of update information and content descriptions that do at least serve to make sure you know what is going on with the site.

The index of all the models on the site proved to be very useful indeed, which was great to see. There were also pretty good descriptions of the scenes and galleries. The video viewing options were pretty good too. These have both improved a lot since our last review. There is also an extensive tagging system so you can tag the content to your liking.
Conclusion
Wank It Now is a site that is progressing about as well as any site that I haven't seen for, well, ages. With its phenomenal update rate and very high quality Ultra 4 K High Definition content on the videos and the super high resolution photos, it has made excellent progress.

The site is sticking wisely with a reliable batch of models who can clearly do this type of thing with great natural ease, and their performances make this site what it is - very tempting, very teasing and almost irresistible.
Lee, Score:10.00, Date:Feb 11, 2012, Epic site, epic videos, over 500 of them, 30,000+ images, 70+ models, easy join, 11/10 !!!


Enter comments and rate this site:

Please enter meaningful comments with pros and cons about the site being reviewed. We reserve the right to remove any comment we deem inappropriate or not adding any value to the review. No special characters are allowed in comments. Be careful of using scores of 0 or 10 as almost no site is totally useless or worthless or absolutely perfect.
IP is recorded for security purposes: 18.234.111.56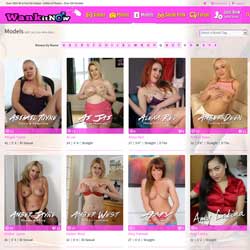 Members Area Previews





Content Quality

9.6 / 10

Content Quantity

9.0 / 10

Exclusive Content

5.0 / 5.0

Download Speed

3.9 / 5.0

Navigation

8.5 / 10

Price / Value

8.6 / 10



$29.99 / 30 days VIP

Latest Review Update: Mar 19, 2018