Stop: This review is inactive due to the site closing or some problem with the program running the site. We recommend you look at the many other great sites we have reviewed in this category.
Caution: We no longer do business with this company and strongly urge you to look at the other sites in this category

Originating in Britain but embracing wives from all over the world, World Wide Wives is a massive selection of member-submitted photo galleries and videos.

All of the content shot, which is exclusively shot by members themselves are submitted to the site. Many models will come back time and time again, and the community nature of the site allows you to keep in touch with your favourites.

World Wide Wives expands and adds lots of new content almost every day of the year meaning that it is constantly growing and offering new videos and photo galleries for its members to enjoy.
Content
WorldWideWives.com currently contains over 8000 videos and about 1,300,000 photos in total, with most photos displaying at 600x900 in size. The videos available in WMV format, offering downloads of 353x288 (350kbps). The site is updated with at least 20 updates per day. Ahh, World Wide Wives. I always enjoy the day when it comes round when they pop in to ask us for a re-review because it means another chance for me to feel fiercely patriotic about the fact that the best amateur site around (in my opinion) is British in origin.

It's always fascinating as well to see how far they've expanded as well. Being, as it is, one of the largest sites that I've ever seen, the fact that it has expanded by over 25% in the last year is an amazing feat from its previous content count in our last review. If, for some reason, you're not familiar with WorldWideWives, it's ostensibly an amateur community-cum-website where mature and MILF hotties can submit their own videos and photo galleries across whatever genre they choose.

Members can keep in touch with other members, almost making this a dating site if you wanted to use it like that. There is a monthly competition to judge the hottest new gallery or video of the month, and even a section dedicated to the guys and their content too. Trying to boil down everything that it has to offer in a relatively short review is very hard though. It covers just about everything – hardcore, blowjobs, anal, lesbian, solo, BDSM, fetish and much, much more besides.

The main strength of the site though is in the variety of the models and performers here. From glamorous blondes to plump BBWs, from ebony girls to Orientals, from tall to short – when you have this amount of content available, you are going to reach a lot of people.

There are many extras on WorldWideWives including jokes, games, competitions stories and a busy message board.
User Interface
The navigation has improved since we last saw it. They still have relatively low quality videos, unfortunately, so we are still waiting for higher definition versions. We do realize of course that this is ALL member submitted content, so this is understandable

The update information needed to be good considering the extraordinary volume of content they add per day, and it is very good, whilst having all performers in their own section and profile is a very good idea indeed. It's very easy to surf on the whole and whilst it may not look the prettiest, it certainly works.
Conclusion
It just goes to show that you can improve even if you are as good as World Wide Wives. This remarkable success story somehow manages to get better and a lot bigger too.

It's thoroughly enjoyable from start to finish with an array and mixture of content that far improves on the vast majority of sites out there. You really would be quite mad not to subscribe to this.
lonestarnaughtygirls.com, Score:9.50, Date:Dec 6, 2011, Great !

mohamad reza, Score:10.00, Date:Sep 19, 2011, good

sexmen, Score:10.00, Date:Jan 18, 2011, Excellent

sexmen, Score:10.00, Date:Jan 18, 2011, Great !

Joe901, Score:10.00, Date:Oct 28, 2010, My favourite MILF on this site has got to be Your Honey Bee.I want to suck here tits and pussy.Are there any other fans out there?

BORBA, Score:6.50, Date:Aug 23, 2010, it could be more full of sites

Craig A, Score:9.50, Date:Mar 16, 2010, I agree that the video quality is not the best, but keep in mind that it is all user generated. The content is always being updated and their is always something new. I will definetly keep coming back for more time and time again. Enjoy !!

DirtyBoy, Score:9.50, Date:Mar 16, 2010, Wow - this site is awesome. Real women - not porn stars. I got to see some real naughty wives and I joined up and cam chatted to one of them. This is amazing.

BigCojones, Score:8.50, Date:Mar 16, 2010, great pics, great vids, only down side is i don't have enough time to get through everything. also very gd to talk to some nice ladies

Rick T, Score:10.00, Date:Mar 16, 2010, The best, had my first dogging session from this site. It's good to meet real people. Well worth the money!!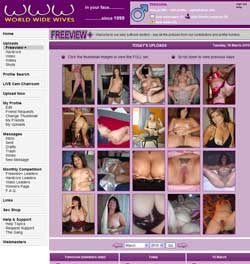 | | |
| --- | --- |
| | World Wide Wives not yet rated |
$24.67 / 30 days

Latest Review Update: Nov 23, 2010