Zoe Zane is an over 40 mature lady who was once married to a Mormon preacher. Now she isn't any more, and has finished having her 7 children, she has turned to porn! This is her hardcore site and it shows you all the adventures that she's been getting up to.

Some of you may know from an appearance on the Howard Stern show where she became known as the Original Cake Farting Girl. If you want to know how she ended up earning such a nickname, then you might get some evidence on this MILF site….
Content
There were too many photo galleries and videos on the site to count, with photo sizes varying significantly. Videos are usually available in WMV or iPod formats with the highest quality of videos being 320x240 (500kbps). There was little or no update information here.

Probably because I'm not a close follower of Howard Stern and his shows, I'd never actually heard of Zoe Zane and her 'cake farting' antics. Or it could be because I lead something of a sheltered life?

Either way, as it turned out, even if I wanted to go straight for said video I wouldn't be able to find it that easily anyway. More of that later. In the meanwhile, having a flick through the content of hers that I could find it was clear to see that this is a lady who has experience in all different types of content.

She's clearly enjoying her post-marriage years! She claims to have fucked over 15,000 men and taken 10,000 facials. That's probably enough to fill an Olympic-sized swimming pool!

There is lots of very decent hardcore action here but ultimately the site is a struggle. The content itself is fine, but having to squint at low resolution content all the time and also battling to find out if you're looking at the main site content or the bonus content that has been fed in from an external source.
User Interface
I found the navigation here really difficult to get to grips with, I have to say. The different indexes are completely confusing and I couldn't actually find where the most recent content was supposed to be.

The older stuff was archived okay, but what about content from the last 2 years? There really is no organisation at all so you are left sort of clicking from link to link just hoping you'll find what you're looking for. On the plus side, video download speeds were pretty fast but that's more to do with the fact that the videos are all lo-res.
Conclusion
For all the men that the star of Zoe Zane has fucked and for all the excellent content that she's recorded and the entertaining antics that she gets up to, the fact of the matter is that the site is hard work due to a really poor navigation and some really vague organisation.

She clearly has loads of charisma, and she throws herself with gusto into just about everything that she wants to get involved in. She's always fun to watch and still really sexy too.

ZoeZane has the following membership fees:-

$19.95 (monthly, recurring at $14.95 monthly)
$24.99 (monthly, non-recurring)
User Score: 10.0 / 10
oscar, Score:10.00, Date:Jul 17, 2011, I am one of those 15,000 men I am a member too website ok

Zoe Zane, Score:10.00, Date:Mar 29, 2009, I give myself at 10 for going strong after the main photo and film man left me hanging the bag. I do all of my own stuff now and it is amature content. As to navigating in the membership, I can make improvements from this review. I guess it is how this review master wants it to be. I made it easier to nag on the free side now to the membership side. I just love it when someone gives you a so so review but does not give any suggestions on how to improve. I figure if it is porn and that is a no brainer. Keep it simple studid it is wake off material.


Enter comments and rate this site:
Please enter meaningful comments with pros and cons about the site else your comment will be deleted. We reserve the right to remove any comment we deem inappropriate or not adding anything useful to the review. No special characters are allowed in comments. Be careful of using scores of 0 or 10 as almost no site is totally useless or worthless or absolutely perfect.
IP is recorded for security purposes: 54.225.16.10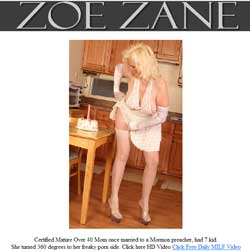 Zoe Zane Members Area Preview

Content Quality

7.3 / 10

Content Quantity

8.3 / 10

Exclusive Content

3.8 / 05

Download Speed

4.3 / 05

Navigation

6.0 / 10

Price / Value

8.4 / 10
$19.95 / 30 days

Initial Review : Mar 28, 2009