17 May 2009

Nothing Says Romance Like Love In Her Oven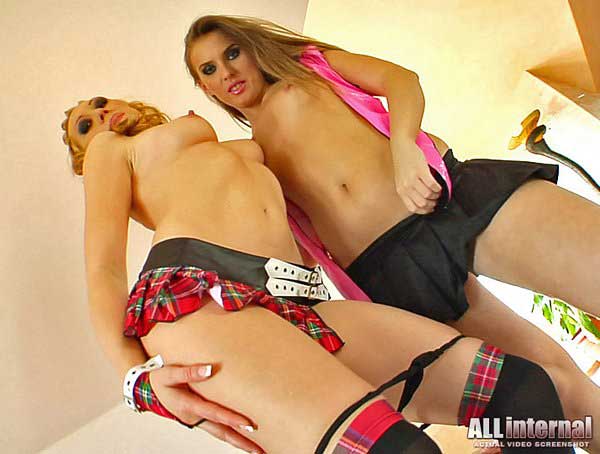 Audrey And Lara Ready To Be Stuffed - Image courtesy of All Internal
Nothing says romance like love in her oven or so the saying goes. At least I think that's an actual saying. But, it is conceivable that I may just have viewed too much porn over the last few years and I'm just dreaming up phrases with dirty connotations. Regardless, today's topic, ladies and gentlemen, is the ever popular
creampie
.
Yes, it's that elusive niche that when done correctly can really blow you away. And it's also a niche that if done incorrectly can just make you toss your cookies.
That's why I think we can all thank the porn gods for sites such as
All Internal
. This is a site that delivers
creampies
with style. Inside their hallowed halls you'll see girls getting gang banged and their pussies stuffed with loads of cum. Just like a stuffed potato. But, they also have anal creampies and other things that are wonderfully dirty about them. We'll get to that in a moment.
First let's talk about what makes a good internal cumshot site. Well, you need hot girls to begin with. And not only do they have to be hot but they have to be nastier than a two-bit whore after a fishermans convention. That means they have to do things that your wife or girlfriend wouldn't do in a million years. Like take three loads of cum up the ass and let it run down her legs.
The next thing you need is a photographer who's not afraid to get right up into the action. And I mean right up in the cummy snatch. Yes, he's gotta be a guy or gal with a strong stomach and who's not afraid to stick his face down into the shit.
And the last thing needed for an awesome
creampie site
are owners/creators who care. Which means they update on a regular basis and look at porn from their members perspective.
And
All Internal
is the site that faithfully fulfills all these requirments. And I say bless them one and all!!
As always there is one movie on All Internal that was my favorite. It featured two babes, Audrey and Lara. They get fucked in an incredible gangbang sequence that involves three guys and their two pussies of course. They get fucked every which way from Sunday by these three guys. They get fucked in their mouths and asses and I think maybe even an armpit!
Anyway, all the guys take turns cumming in Lara's tight snatch. When she was all filled up, than she stood up and let the cum leak out. Than Audrey comes over and eats up the frothy goodness. And than she looked her pussy so clean you could see your reflection in it!!
Posted by David