15 Nov 2007

Amy Fisher Is Back!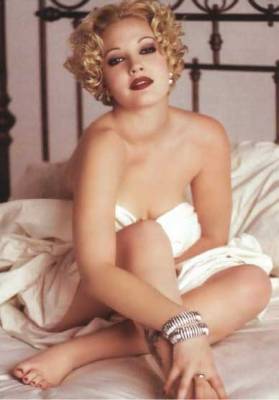 Drew Barrymore played Fisher in one of a number of TV movies.
You know what I think there just isn't enough of out there in porn? Hot attempted murderess action. There just aren't enough sites or DVDs dedicated to sexy women who have purposefully killed another human being. Don't you think?
Therefore, it's likely you'll want to pop along to Amy Fisher Caught On Tape pretty soon, seeing as though her ex-husband was kind enough to release a sex tape of him and her getting down and dirty.
A sex tape, of course, that she is fighting hard to block the wide release of. Unfortunately for her, Red Light District are past masters at getting hold of these tapes and winning every court case about them.
If I were them though, I'd be worried about pissing her off too much. After all, if she did what she did to poor Mary Jo Buttafuoco then I would rather suggest she would have few qualms about maybe doing the same to these guys!
I know, it's wrong of me to make these suggestions, but I'm just saying. These guys have pissed so many people off with the obtaining of these videos that sooner or later somebody may get REALLY pissec off.
Going back to Amy Fisher though, one can't but help wondering what she might have been up to had she never, y'know, tried to murder someone. She might never have ended up in porn had she been notorious. It's quite the moral conundrum, isn't it?
Posted by Steve