15 Jan 2007

Bye-Bi-Sexual?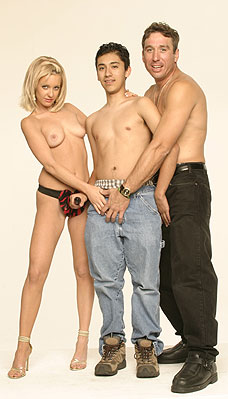 Three of the stars of Bi-Bi-American Pie. No apple pie shagging here.
Why aren't bisexual sites more popular? Or, more precisely, why aren't there more of them?
I suppose in some ways they are difficult to approach for producers. Just how many straight hardcore sites contain MFF and MMF threesomes, after all? These are never considered 'bisexual' by these sites, for some reason though, despite the fact that they clearly fall into that category.
It seems that when these sites are produced that they concentrate rather a lot on MMF threesomes where the two chaps don't keep as far away from each other's genitals as they possibly can. In fact, I don't think I've ever seen a site where one guy even gets a drop of the other guy's cum on himself in some way. That's some effort, clearly.
It seems to me that there needs to be a bisexual site out there that isn't afraid to approach the 'traditional' MFF approach from straight hardcore porn as well as the MMF stuff for this genre to be really taken seriously.
The only site that I've seen that comes close to addressing these issues is Bisexual.com, given very high praise by Harry when it was reviewed. There is clearly a large market out there for these sites, but when there are so many issues to be addressed, will these sites EVER become really widespread?
Posted by Steve