23 Oct 2017

Best Celebrity Tits in Horror Movies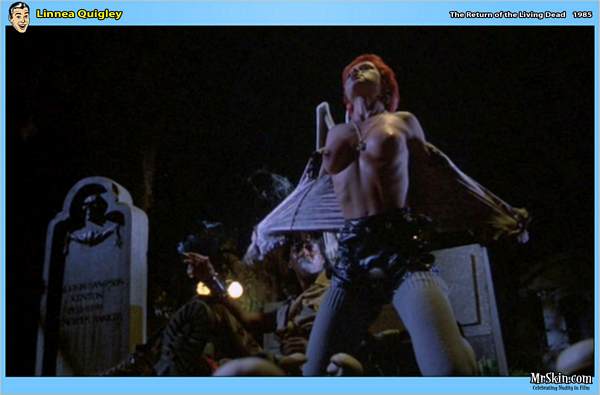 "Trash shows off her pre-zombie breasts" - Photo Courtesy of Mr. Skin
I usually only do one horror blog each year, so technically I shouldn't even be writing this but I decided what the hell there's a horror element I want to talk about. Hot ladies in showing off their big tits in horror movies. Scenes which inevitably end up on Mr. Skin.
Before I start this blog, I want to say something about Mr. Skin. This is a site that skips through all of the boring parts of movies and only shows off the really interesting parts. Like tits and ass and sex. You know, the tasty bits. If you haven't checked them out you should because they have naked celebrities from all types of different movies.
I also want to state that since this is a blog about big boobs appearing in horror movies there may be some spoilers. Of course, all of the movies I'm doing are fairly old ones, so if you haven't seen them, well then I don't know what you've been doing with your life.
Number 5 on my list of horror honkers is Drew Barrymore playing a character called Holly Gooding in a little movie called Doppelganger. Now, I don't want to ruin this movie (because it ain't that good) but I will say the scene in which Drew is taking a shower washing off blood is pretty fucking hot. And she just so happened to be 18 at the time, so this may have been her first boob display for the camera.
Number 4 on my list of horror titties is Pamela Susan Shoop playing the role of Karen in Halloween II. This chick is killed when Michael Myers drowns her ass in a boiling hot tub but before she's bites the proverbial dust she shows off those excellent breasts of hers. Wow, just wow.
The Number 3 on my list of scream queen sacks is PJ Soles from the original Halloween. She too bites the dust at the hands of the "Shape" but before she does she gets a chance to show off her knockers. Tits that have been masturbation fodder for many of us over the years.
Another hot ass babe comes in at Number 2—the incredibly sexy Space Girl played by Mathilda May in the sci-fi horror movie known as Life Force. She spends just about the entire movie running around naked—giving us a great chance to not only check out her space titties but also to check out that amazing ass of hers.
Wow, I've been through a lot of hot fucking tits so far but I think I've saved the best for last. It's the zombie boobies of Trash from Night of the Living Dead. This character was played by Linnea Quigley and all I have to say is that if I was ever trapped in a zombie apocalypse, I'd want to be with her—whether she's a zombie or not! Don't believe me, well check her out on Mr. Skin and see for yourself.
Okay, that does it for me today. Did I hit the nail on the head with my best horror tits? If not, well, then maybe you should make your own list because this is mine and I stand behind it. Happy Halloween!
Posted by David