28 Aug 2017

Porn Was Eclipsed by the Moon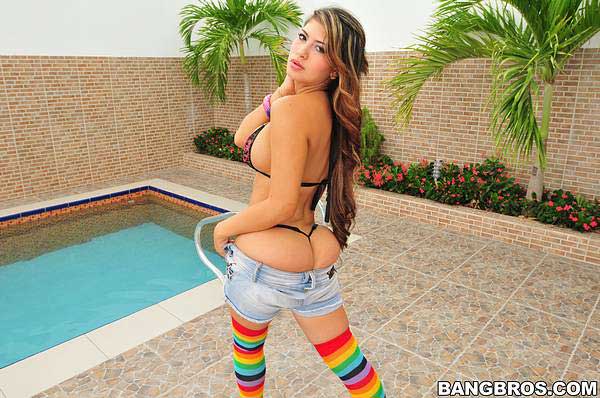 "This Moon's The One To Watch" - Photo Courtesy of the Bangbros Network
Unless you've been living under the rock, you probably are aware that there was an eclipse near the end of August. What you probably didn't realize however, was that this event was one of the most watched ones in history. It even eclipsed porn sites such as the Bangbros Network.
Porn sites all over the world saw a dramatic decrease in traffic during the eclipse. That's because everyone was outside looking up at the sun instead of enjoying the toasty glow of hot babes fucking on their computer monitors. Now, while I'm not sure if the Bangbros Networksuffered the same dip in Internet traffic as some other sites did, I would probably guess that it did.
And I completely understand why some people decided to put away their porn and enjoy some celestial magic. I get it. It was a once in a lifetime event for some people, so it's better to lose a little stroking time than to miss out on the wonders of the universe.
To be honest, I too stepped away from my trusty computer and spent the day outside, looking up at the sun. It truly was an experience not to miss. I got to see the sun in a way that I never had before. Hell, I got to see the world in a way I never have before—with the light levels becoming quite funky before and after the big event. So I can truly see why Internet porn traffic took a dip. After all, porn will always be there but you won't have another chance at an eclipse until 2024—at least, in the U.S.
I know that a lot of people spent the days in some interesting ways, too. For example, there was a nudist colony in Missouri that held an eclipse watch party. A bunch of people with their bits and pieces hanging out and just standing there staring up at the sun. I'm sure that was an interesting affair.
Hopefully, now that the eclipse has come and gone we can all go back to doing what we like to do. Visiting porn sites such as the Bangbros Network and watching big booty babes moon us and do all kinds of nasty stuff.
Yes, no more looking at the sky for awhile. Now we can focus on tits and ass—like we're supposed to be doing. Of course, as of this writing, the news has been rambling on about the eclipse. Just beating it like a fucking dead horse. Yes news programs, we know. The moon covered the sun and it was glorious. Now, let's get back to porn.
Okay, faithful porn readers, that about does it for me today. Be sure to come back and check out a new porn blog when I release one. Just be sure to do it before 2024, will you. I'm not writing this stuff for my own entertainment. I expect you all to read it.
Posted by David