01 Sep 2011

Creampie Angels Retools Its Genre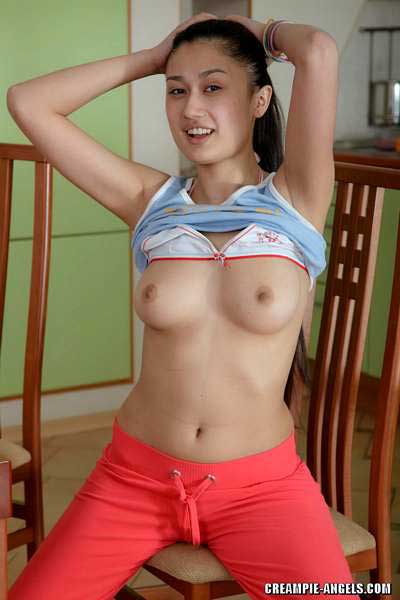 "Ready for her dripping pussy closeup" - Photo Courtesy of Creampie Angels
Creampie Angels is a porn site that is sure to fire up many fans of the creampie genre. This is primarily due to the fact that the site has some great action that really captures the essence of the genre, but it can also be attributed to the hot entourage of ladies they have assembled on their site. After all, eighteen year old babes are hot.
Now I am not saying that other creampie porn sites are bad, but I must admit that they have gotten quite complacent over the last few years. When the creampie niche first erupted on the internet, it was truly a force to be reckoned with. It was a niche that seemed to generate a fair amount of controversy and at the same time, fire up a lot of its new fans. But over the past few years things have changed. It seems that many creampie porn sites have found themselves in a little bit of a rut.
The rut I am referring to isn't so much directed at the action on these sites, but on the quality of the women on these sites. A lot of the women on creampie porn sites are twenty or thirty year old women who are choosing to get their pussies stuffed with cum. While there isn't anything explicitly wrong with that, I personally always wanted to see teen babes getting filled with spunk. Thank goodness this has changed a bit when a few teen creampie sites hit the market. Sites such as Creampie Angels.
Creampie Angels, while not completely unique in its concept, does do a great job in executing a genre that is a mix between teen sex and creampie porn. They take beautiful eighteen year old babes, many of which are from Europe, and put them in some of the hottest XXX action that could ever grace a porn screen. That is strong enough of a concept to attract many fans to the site, but they then take it a step further by ending the action with some great creampie shots.
And when I say creampie shots, I mean they really focus on the globs of cum dripping from these ladies love factories. A lot of sites will skim this part of the shot and only give viewers a glimpse of the hot dripping cum. But Creampie Angels takes it to its logical conclusion and shows us what we have come to the site to see. Hot teen creampies. Gotta love it when a porn site's concept matches up with its execution.
There is one more thing that I really like about this site. The teen babes on this site really love to be filled with cum. A lot of other creampie sites will portray their women as unwitting participants, but this site shows the women being real proactive as they search for the next great creampie. In other words, these ladies want it and need it.
If you are curious about this site, then you can check out the review of Creampie Angels and see if it lives up to the accolades that I am giving them. Your impression of the site may differ from mine, but I am quite confident that you will find it something out of the ordinary and worth a look. This site really knows how to work a genre.
Posted by David