07 Apr 2017

Love of Domineering Older Babes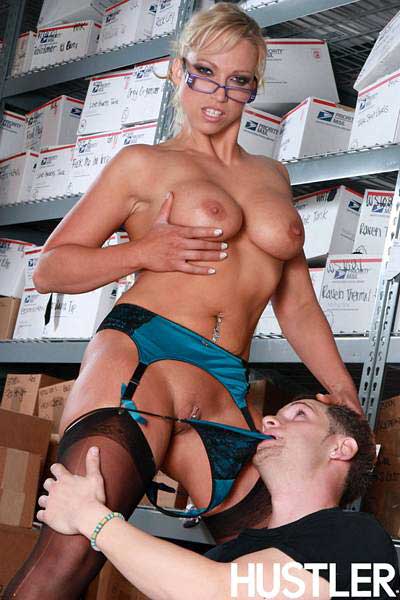 "Nikki Hunter's Box Is A Priority" - Photo Courtesy of Bossy Milfs
Do you love Bossy Milfs? You know, older ladies who like to get their hooks in a young man usually works for her and makes him satisfy her sexually. If you do, then you might want to not only check out the site of the same name but also check out this blog today. I'm all about domineering cougars today.
Yes, I have to admit it that I have a soft spot in my heart for Bossy Milfs. When I was younger, that was my fucking dream. Especially since I worked for a really hot ass older lady. If she would've taken me to the side and told me I had to fuck her, then I would've been ecstatic. There was nothing else that I wanted more than to fuck her. And that's the truth, Ruth. It was every other thought that ran through my head at the time.
This chick was my direct manager at the restaurant I worked at and I must have busted my ass a million times trying to make her happy. When she said fetch the margarita mix—that's what I did. When she said bring up the canned pinto beans from the cellar—I jumped on it like my life depended on it.
To protect both her and my identity, I won't use her real name but let's go ahead and call her Angelina. This chick was about 20 years older than I was at the time—which made her about 40 years old. She was about 5'7' tall and had some of the biggest DD tits I had ever seen at that point in my life. Those melons were so large they could just about smother a guy. Every night when I went home from work, I would dream of playing with those incredibly large and bouncy boobs. Unfortunately, that scenario never panned out.
All the shit I did for her and she never threw any free pussy my way. Which is a shame. It would've been nice to have been balls deep in that babe. It just wasn't in the cards I suppose. The restaurant eventually closed and she probably went to work for some upscale bar or something. I moved on to bigger and better things too, including writing this blog for you today. However, I do have to say that I still occasionally dream about Angelina and her big bouncing cans. Maybe some day me and her tits can run into each other again. Sure, she'd be almost 70 but I think I'd still take a crack at those juggs.
Of course, I could just head over to Bossy Milfs and check out the selection of milf pussy they have there. I'm sure any of the babes on this site would make a wonderful replacement to Angelina in my spank bank. Perhaps I'll add a Brandi Edwards, Hunter Bryce or Dylan Ryder to fill the void. Yes, that's what I'm going to do. In fact, I'm heading over there right now. Have a good day guys and be sure to get your fill of some hot mature pussy.
Posted by David