22 Sep 2008

Erica Campbell 'Sees The Light'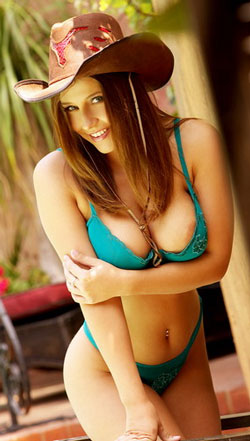 Yee-haw indeed.
I do wish these pornstars and adult models would stop undergoing religious conversions. It's starting to worry me a bit. First it was Crissy Moran. And now it's Erica Campbell.
Unlike with Crissy Moran though, Erica Campbell has had a rather more dignified exit from the industry, even if it was rather sudden for many people's likes. I'm not sure many people expected it.
Mind you, with a girl who, in her spare time, lived on a farm and tended for sick animals, there was always more of a likelihood of this happening than with the vast majority of other adult stars.
Unlike Erica Campbell, the vast majority of adult stars live in California or Nevada and spend most of their time in clubs. There's a major difference between the two!
I'm certainly not of the school of thought though that says that losing one star like her doesn't make a huge amount of difference to the industry as a whole as there are plenty of other girls where she came from.
Yes, there will always be beautiful girls in the industry and loads of them - obviously. But not many of them are insanely curvaceous with no enhancements and as downright beautuful as Erica Campbell is.
I rather think she'll be missed by a lot more people than just her dedicated fans personally.
Posted by Steve