15 Feb 2017

Real Or Fake Tits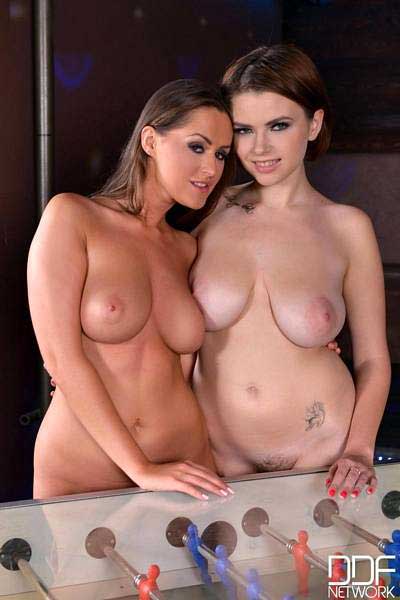 "Fuck Foosball! I Wanna Play With These Tits" - Photo Courtesy of DDF Busty
Okay guys, I have a question for you. Which are more fun to play with: fake tits or real tits? Yes, I'm being serious today. I really would like to know. After all, not every guy prefers natural boobs. There are some guys who love fake tits. Fortunately, sites like DDF Busty have both.
The question came up while I was doing research on DDF Busty ...okay, I wasn't doing research, I was jerking off but that doesn't mean the question didn't pop in my head while I was toweling off. Because that is when it did happen. I had just finished jerking it to Russian porn goddess Marina Visconti's real fucking boobies (and glorious for that matter) when I came across the fake tits of Kyra Hot. And you know what happened? I got my fucking erection back!
Yes, I know what you're going to say. I have spent all those years talking about how I love natural boobs the most and that still holds true. If given a choice, I prefer the bouncy goodness of natural knockers. Even if those puppies sag a little bit, I still prefer them over fake hooters. However, it appears that my dick has no such preference. My cock will apparently take all comers.
I was a taken back a little bit by this revelation, so I decided to do an experiment. I wanted to see if I could get hard to both natural and fake juggs or if my dick was just getting hard over Kyra Hot in general. So I put it to the fucking test.
I checked out all the babes on DDF Busty with natural knockers. Chicks like Lana Ivans, Jessica Moore, and Krystal Swift. Then I checked out all of the babes who have fake boobies. Babes like Sharon Pink, Tigerr Benson, and Eva Notty. And you know what I found? They all made me fucking rock hard. Damn modern cosmetic surgery!
After I rubbed one out (to the breasts of Shione Cooper, if you're wondering) I cleaned up and started writing this article. I was thrown for a loop a little bit but then I realized that it really doesn't matter in the long run.
It does appear that while I mentally prefer natural sweater pups, my dick doesn't mind whether the titties are real or fake. It's just happy to fucking see them, and if possible, play with them. Oh well, I guess that I learned a little bit about myself today. And maybe you will too if you take the time to compare the real with the fake.
Well dudes, that does it for me today. I'll be back in a little bit with another great fucking article. If I can keep from jacking off long enough that is. Until then, be safe out there and decide for yourself whether you prefer real or fake titties—if you can even tell them apart. Most of the time I can't tell them apart!
Posted by David