01 Oct 2017

Let's Enjoy Some Halloween Titties!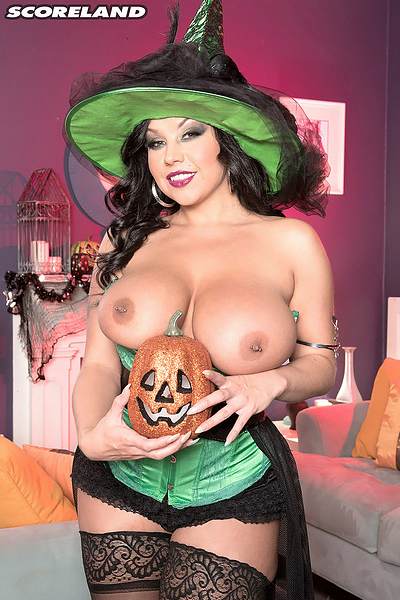 "Sheridan Love has my kind of pumpkins" - Photo Courtesy of Scoreland
Halloween is almost upon us and you know what that means. Yes, it's time for me to come up with a porn blog for the holiday—which I did. For this occasion, I want you to celebrate with awe the beauty of Sheridan Love as she does her thing on Scoreland.
Yes, if you want to have a Happy Halloween, then I encourage you to visit Scoreland and check out the massive munitions locker of mammary glands they're hording. This site has all of the top busty models on the Internet today: Alexsis Faye, Milly Marks, Rachel Raxxx, Hitomi, Paola Rios, Candace Von, Tiggle Bitties and of course, Sheridan Love. Ms. Love also happens to be my October crush but that has nothing to do with her appearing on this list.
What was I saying? Oh, okay, I remember. I was saying that after you have finished picking out your Halloween pumpkins to make Jack-o-Lanterns with, it might be time to sneak off to the old man cave and spend a little bit of time checking out some flesh cantaloupes. If you thought that pumpkin spice lattes' warmed you up, then you seriously ought to try big tit porn. That will warm you all the way to your cockles on even the chilliest of autumn nights.
Yes, I know, every year I recommend a porn site that you should visit before or after your Halloween festivities. For the last two years it was cosplay, then the year before that it was amateur porn and in 2013 it was lesbian porn. All the way back to 2009—shit! How long have I been fucking writing these blogs? Damn, evidently a long time. Not that it matters because none of you listen to me, yet here I am still doing it.
Seriously, what are you going to do for this holiday? Sort through some candy and make sure it's not poisoned or watch a block of horror movies? Maybe watch Ghost Hunters Live or some other show where you'll spend all night waiting to see a ghost only to be disappointed and full of candy corn by the end. That all sounds pretty lame to me. On the other hand, spending the night watching Sheridan Love sounds pretty kick ass. I'd vote for that any day of the year.
Anyway, my point is that All Hallows Eve is not a holiday suited for adults. No, we don't get any fucking fun out of it. Not unless we make our own fun—like having our girlfriends dress up like Supergirl or checking out Scoreland for the biggest tits in the world. That's the only fun to be had on this spooky night. That and maybe a fucking block of horror movies.
Posted by David